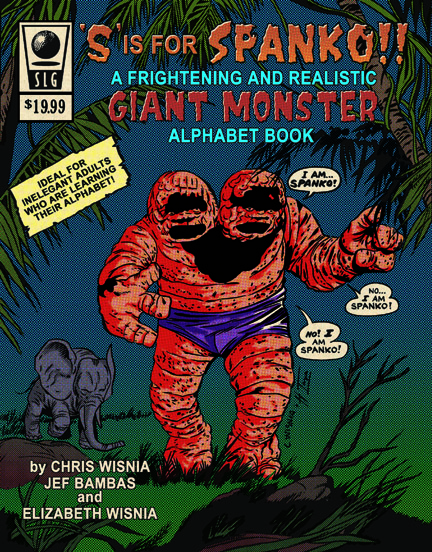 "S IS FOR SPANKO!"
A FRIGHTENING AND REALISTIC GIANT MONSTER ALPHABET BOOK!
By CHRIS WISNIA!
Colored and Edited by JEF BAMBAS!
Alphabet poem by ELIZABETH WISNIA!
Published by SLG! / July 2014 / Hardcover / 32 Pages / Color / 8.5"x11" / Young Adult
$23, shipping included to continental US, and a sketch inside by Wisnia!
GASP! A IS FOR HORROR!
B IS FOR "YOU CAN'T BEAR TO SEE ANOTHER PAGE OF GHASTLY GIANT MONSTERS WHILE LEARNING YOUR ALPHABET!" AND SO ON!
Do YOU need to learn your alphabet? Have YOU been meaning to, but just keep postponing it? Are YOU in the 17-46 year age range, but just haven't had time to bother with "B", or "H", for example? Do YOU love Kirby-style GIANT MONSTERS? Then boy have we got a treat for YOU!...
Taking familiar, recognizable, easy-to-pronounce and everyday GIANT MONSTER names, such as "Fuggabluh" or "Choopeepoo," and putting them in a context children can relate to... and FEAR!
Twenty-six letters of sheer, unadulterated, alphabet-learning TERROR! Can even YOU endure... such panic-inducing, alphabetical strain?
NOT IN STORES! Buy the gorgeous FULL COLOR HARDCOVER, ONLY $23, shipping included to continental US, and a sketch inside by Wisnia!
See an exciting, realistic, deathly frightening sample of alphabetical HORROR below ... IF YOU DARE!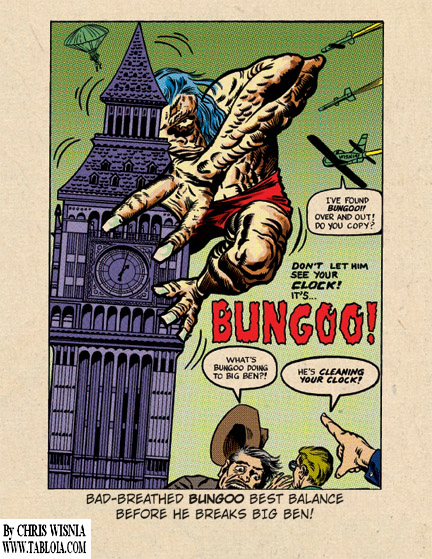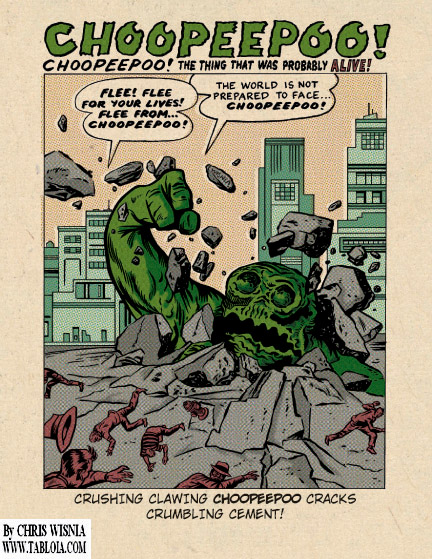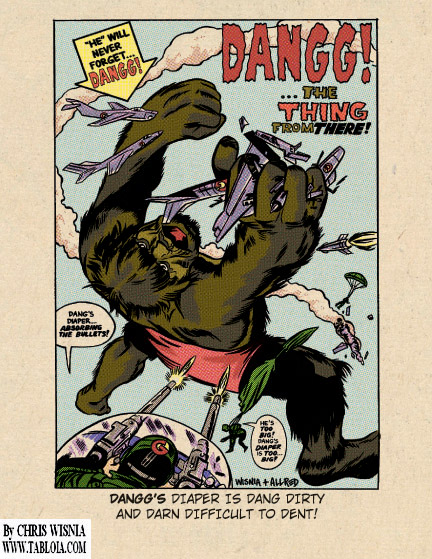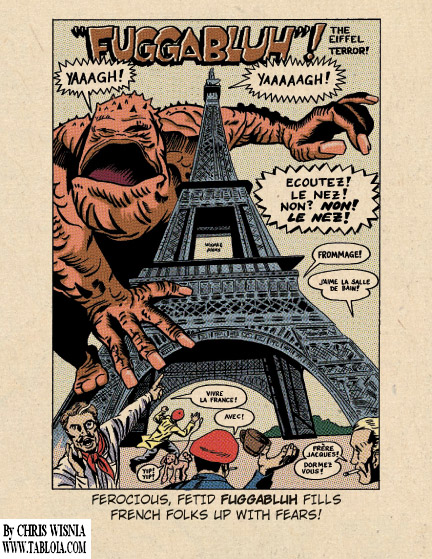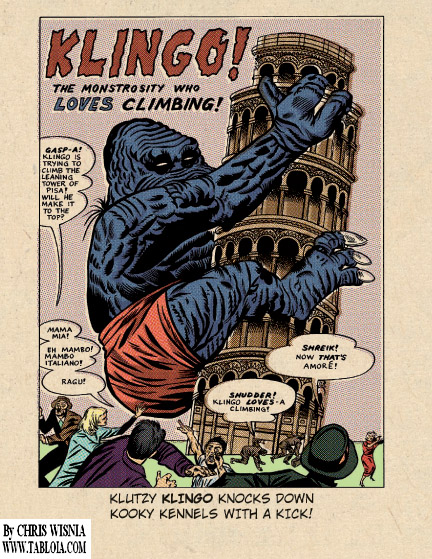 ALL THE GREAT COMICS PROS SAY...! Read what all the luminaries of the comics industry have to say about Chris Wisnia's Giant Monster stuff!
READ THE REVIEWS, INTERVIEWS, and ETC!
SEE ALL THE OTHER GREAT GIANT MONSTER MERCH WE'VE GOT!
See DORIS DANGER'S FIRST GIANT MONSTER APPEARANCES...only in TABLOIA WEEKLY MAGAZINE!
Back to other exciting and realistic Doris Danger GIANT MONSTER books