Tuesday, August 17th, 2010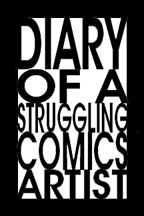 Wow, fans! One hundred fifty diary entries! This entry marks the beginning of our own artistic hack Chris Wisnia's decent in madness! Not literally – figuratively! This marks the beginning of his hardships as a father trying to create comics, the family stresses and difficulties, and his bitter battle with the evil criminal organization known as the Internal Revenue Service! And more! So stay tuned over the weeks for more excitement! -Rob Oder, Editor-in-Chief!
diary entry: January 6th, 2007
At San Diego, I spoke with a few fellow self-publishers about how I would like to try and hit a couple decent conventions before the end of the year, because I knew I'd be putting out a Dr. DeBunko collection, and two Doris Danger 16-pagers. I wound up hitting the Portland show, because it was so convenient to have relatives I could stay with. That got me discussing future con plans with my wife.
Elizabeth and I began realizing we have a number of friends in a number of cities, and all these cities have good comic conventions. We have two sets of friends in Atlanta, a friend and another friend's family in Chicago, my cousin in Portland, a fellow comic self-publisher's family in Seattle, tons of friends in Los Angeles. And our friends just keep spreading into new areas.
Also, Elizabeth pointed out, if we're going to fly to cons, now is the time, because when Oscar turns two, the airlines won't let him sit on our lap, and we'll have to buy him his own seat. So we thought, if our airfare is less, and we can have a place to stay for these conventions, it could make the conventions theoretically not such a loss. It's a smart business decision! Visit our friends, not pay for hotels, not pay for an additional airline ticket, write off the trip as business . . . So many good reasons to go visit friends! * (see important note below, employees of the Internal Revenue Service! -Rob!)
Upon this realization, we started looking for conventions we would like to go to this year, and next thing we knew, we had booked every other week from the end of February all the way through March. What were we thinking? And of course the bummer is, there are still a few cons we would have liked to have gone to, but we knew it was already way too much scheduling. We began dreading it more and more, as soon as I sent in the applications.
In the past, we've done usually five or six conventions a year, with two or more of them being very local (an hour drive away, and a stay either with my sister or one of my many close friends in the bay area). That's basically two fairly far away places a year, and then the big, expensive San Diego trek. So this year, with seven cons on the calendar, and at least two more as yet unconfirmed but on our mental schedule, AND with a one year old terror to accompany us (my great, great son), it should be a hell of a year.
And then things would even get worse. (Writing now, in 2010) This would be the beginning of our worst, hardest times we'd faced.
* NOTE TO THE INTERNAL REVENUE SERVICE: When Chris speaks about visiting friends and then writing off the trip … he's actually using literary techniques such as "overstatement", "embellishment" and "hyperbole"! He's using "artistic license" to make for an entertaining, fictional, farcical exaggeration! You can rest assured that his every real-life business venture is, in actuality, wholly professional and legit! -Rob!