WHO IS … ?
Click and read the "Rules" link, fans! Then email me your answer, and YOU could win the FREE WEEKLY PRIZE! -Rob!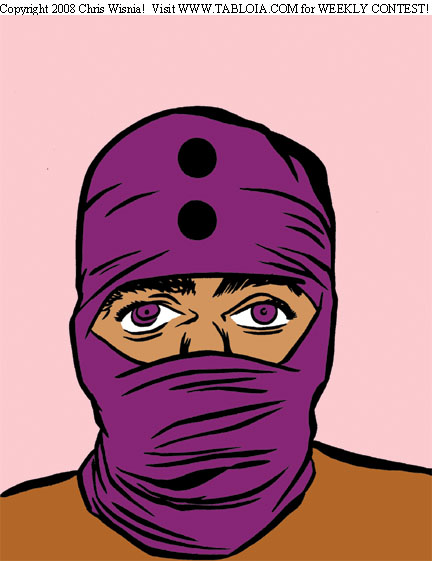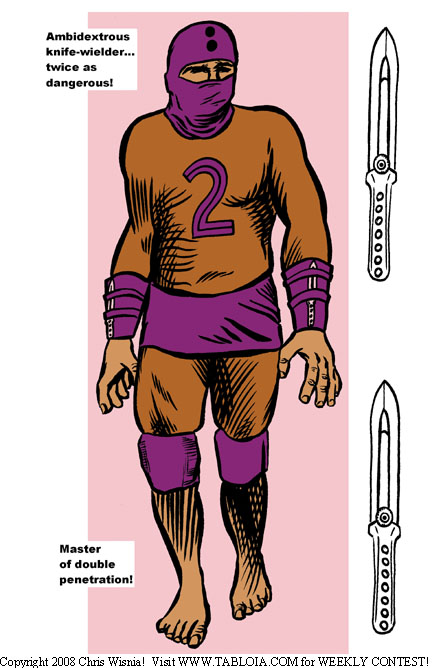 CONTEST RESULTS!
What fun!
Lots of fun guesses this week, fans!
Previous contest winner Dev Quin guessed "the Purple Headed Warrior," who "was taught by dedicated instructors how to shimmy up long, hard poles as part of his warrior training."
Previous contest winner Ricky Sprague guessed "PURPLE EYED JOE," and then launched into his increasingly lengthy, increasingly disturbing character description: "Purple Eyed Joe make the scene! When he come out to get the bad villains, they all say, 'Look out for Purple Eyed Joe! There is no resistance to his purple eyes! Ahhhh!' Well, what he does is, he looks at them with his purple eyes, and they (what he's looking at) go all purple. Then the police can catch them, because they've gone purple." Ricky continued for some time along these lines, developing intricate plotlines of police accidentally catching other police because their costumes look kind of purple in the dark, or "then criminals start catching good people, and painting them purple, to confuse the police." And on and on! If anyone knows Ricky and could stop by his place and make sure he's doing okay, we would appreciate it!
Previous contest winner Mike Bowles wrote "Only he can achieve the deadly "piercing pointed penetrating prick" attack…"
And most thorough multiple guesser of the week is Lester Fairley, with his stack of guesses: "The Penetrator, Anal Probe, Dirty Sanchez, Double Dildo, [and/or his best friend] Spencer Beni."
The lucky winner of our weekly prize is…Lester Fairley! We're so proud of you, Les! and we'll be in touch about the FANTASTIC SKETCH you've just won!!
Thanks for all the participation, fans! Thanks for daring to put yourselves out there and make these often difficult guesses! We'll see you next week! -Rob Oder, Editor-in-Chief!
SPIDER TWINS MINI-COMICS ARE NOW AVAILABLE FOR PURCHASE! Go to merchandise page to learn more! You can BUY ONE OR ALL THREE (3) Spider Twins Mini Comics ("Pink," "Blue," and "Lilac"), PLUS FREE Creator's Commentary CD!