WHO IS … ?
Click and read the "Rules" link, fans! Then email me your answer, and YOU could win the FREE WEEKLY PRIZE! -Rob!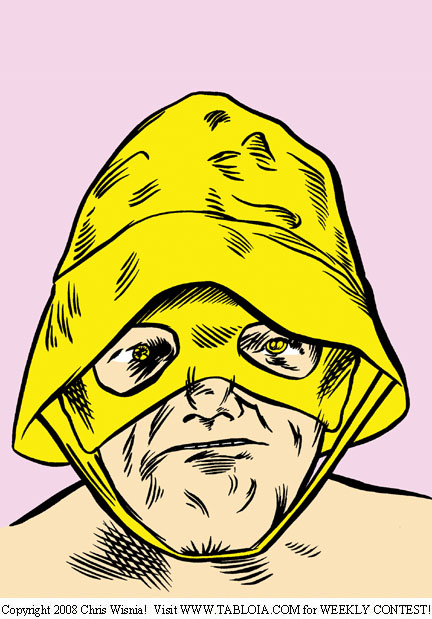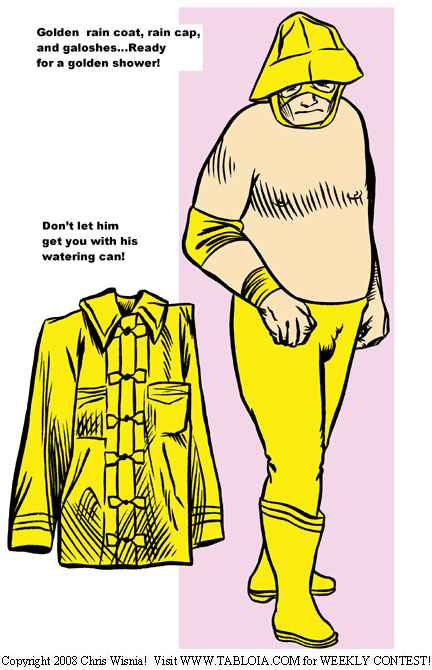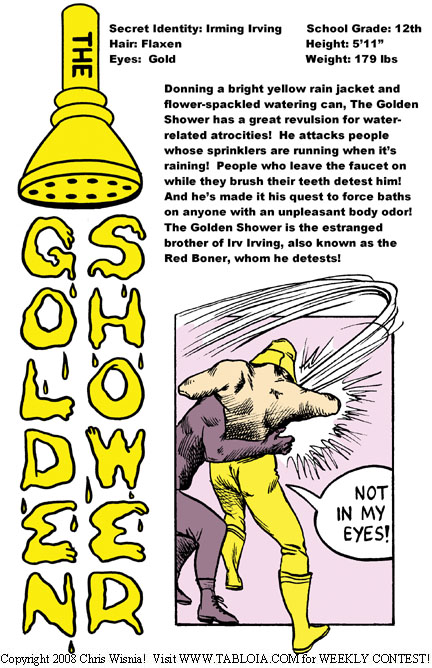 CONTEST RESULTS!
Can you believe your eyes?!
You won't believe this, fans, but we called to you for support, and for a shocking change of pace, YOU ACTUALLY DELIVERED! This week, we received an unprecedented SIX GUESSERS! AN ALL TIME RECORD! Congratulations to ALL SIX OF YOU die-hard fans!
Previous winner, Lester Fairley did his usual superfluous guessing this week, with "Golden Shower," "Trojan Man," "Curious George's 'man in yellow'," "Small Banana man," and his best friend "Steve Tirre in the pants man." He also wrote that he received his winning sketch in the mail, but "I have to hide it from the wife, she doesn't know what to make of 'the cock'."
Previous winner, Sean Messina guessed "Shinny golden showerer? Wet and Wonderful golden showerer? Simply the Golden Shower Man (w/ large nut sack)? Golden Eyes? It's raining men Man? The golden flasher? The pedophiler? Watch out for what comes out behind that yellow jacket? Or maybe is just the Yellow Jacket? Is his theme song 'Pee on Me' (to the lyrics of 'lean on me' where Lean is replaced with Pee?)" He added, "It was hard to believe that Soaking Wet Pussy was only in the ninth grade- to be a hero at such an age… wow."
Previous winner, Ricky Sprague, wrote, "The person has a yellow rain hat, so I'm guessing he's called The City Stalker! He stalks the city streets, rain or shine!"
Previous winner, Tyler Rork, correctly guessed the elusive "GOLDEN SHOWER!!!!" What would make him elusive, we don't know, but he elaborated, "his kryptonite is asparagus," and asked the question that baffles criminologists: "Is the chin strap really necessary?"
And lastly, previous winner, Dev Quin, once again wins for most emails sent guessing, and additional kudos for making correct guesses from Monday's head shots alone! In his first elaborate letter, he boldly stated:
"If you were happy that I was submitting guesses based soley on the head shots, how chuffed will you be once I start guessing BEFORE there is a head shot? READY?!
"This Week's character is named "The Carpet Muncher!" He's a grizzled snack-aholic who never goes any place without some tasty food to munch. He runs a carpet shop. His favorite thing to do is munch snacks on some carpet and watch "Francis the Talking Mule." He turns to crime fighting after having his store broken into once to many times! He loves to rub the faces of worthless punks over the roughest, most uncomfortable carpets he has in the store.
"Here's a quote from him catching a Punk: "If you wanted it so bad, YOU CAN HAVE IT! MUNCH MY CARPET you worthless Punk! MUNCH!"."
After seeing a headshot, he guessed, "A) The Golden Shower, 2) Jimmy Hat, 3) Frankie "The Sexual Innuendo" Haverchuck"!
But there can only be one winner every week (except our first week, when we had three winners!), and this week's winner is … out of pity! Benjamin Ilka has been writing in and consistently making thoughtful, well-informed guesses, and is the only guesser to send in a "ball package research collage," for crying out loud, and EVERYONE ELSE WHO HAS EVER TOSSED OUT ANY RANDOM THOUGHTLESS GUESS SINCE THE CONTEST HAS BEGUN HAS WON A FREE SKETCH…EXCEPT for pitiful Benjamin! So this week's drawing has coincidentally drawn your name, lucky Benjamin! That's right, You're the winner, even though you didn't even guess this week! Congratulations, lucky Benjamin! We're so proud of you, and we'll be in touch about the FANTASTIC SKETCH you've just won!!
Seem unfair? or dishonest? GOOD! We always said we'd do our utmost to make this contest unfair, and now you can kiss our asses!
As for the rest of you, this means EVERYONE WHO HAS EVER GUESSED HAS WON A FREE PRIZE! (If we're mistaken, please write in and let us know!) That means that if we don't get any new guessers, next week, someone will be winning a SECOND FREE PRIZE, all to their greedy self! DON'T LET IT HAPPEN, shy fans! Write in with your guess, we implore you!
See you then! – Rob Oder, Editor-in-Chief!
UPDATE! This week's lucky winner, Benjamin Ilka, just this instant wrote in that he DID guess! Yesterday! And that his guess was Golden Shower! Oh, Benjamin, you already won, you don't need to make excuses!
SPIDER TWINS MINI-COMICS ARE NOW AVAILABLE FOR PURCHASE! Go to merchandise page to learn more! You can BUY ONE OR ALL THREE (3) Spider Twins Mini Comics ("Pink," "Blue," and "Lilac"), PLUS FREE Creator's Commentary CD!