WHO IS … ?
Click and read the "Rules" link, fans! Then email me your answer, and YOU could win the FREE WEEKLY PRIZE! -Rob!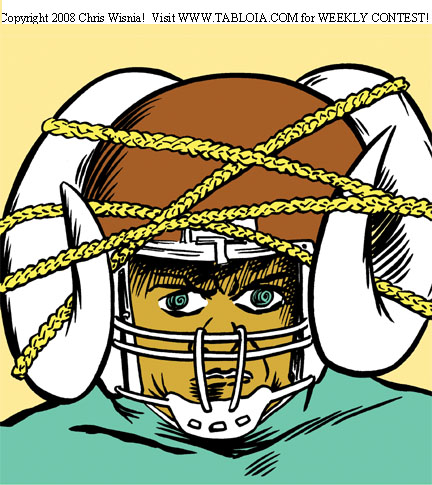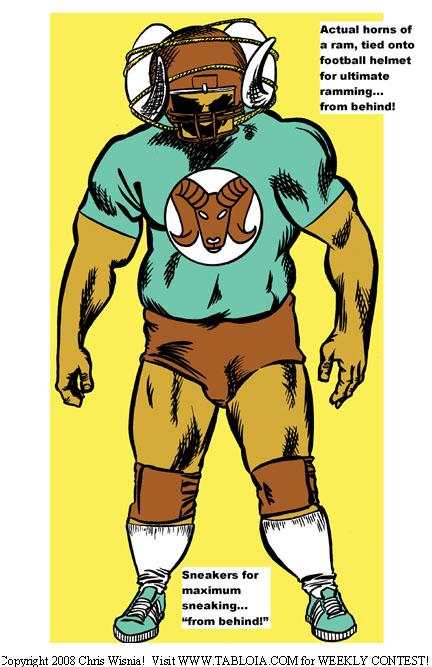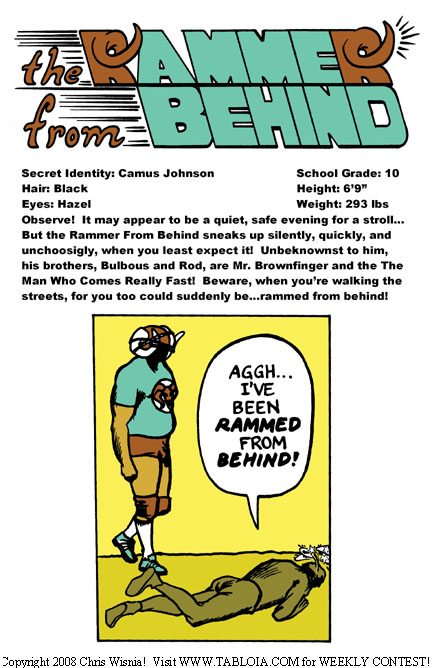 CONTEST RESULTS!
What happened?!
UNBELIEVABLE PARTICIPATION THIS WEEK, fans! We are thoroughly quibberdejoggled and touched at all the hard guessing-work! In this one week, we have received an UNBELIEVABLE TEN FANTASTIC GUESSERS! That's DOUBLE the guesses we had been receiving for the first nine weeks! Congratulations and warmest thanks to all you dedicated participators! Let's keep the momentum going strong!
We even received a guess from someone who ISN'T a personal friend of Chris, and who ISN'T EVEN ALREADY ON OUR MAILING LIST! UNBELIEVABLE!
Previous contest winner, Tyler Rork, once again described this week's character as "elusive"! He warned "Don't let him get behind you, or …you will feel it in the morning!!!"
Previous contest winner, and consistently accuarte guesser-before-the-full-body-shot-and-clues, Dev Quin, was once again the first guesser of the week! This time, he flaunted his guess, four days before an image was posted! He boasted, "Watch as I start guessing mere seconds after the last contest ended…" Needless to say, his guess, (The Brown Goose…who loves giving people pets, but he especially loves giving people gooses) was wrong!
Previous contest winner, Sam Hayes, guessed, "Bound From Behind, Rams McGee, Football Dropout, Brown Streak," and others. Not to be outdone by Dev Quin, he guessed NEXT WEEK'S character before THIS WEEK'S CHARACTER WAS ANNOUNCED! "Rim Job…dejected after he was banned from playing high school basketball, due to the accidental death of another player." etc. etc.! We'll tell you just how wrong that guess was…NEXT WEEK!rd
Previous contest winner, Sean Messina wrote, "Largest nut sack to date…Aren't his horns great!"
Previous contest winner, Les Fairley, guessed (among other things): "Butt Ram, Cleveland Brown Ram, Horney Head, Horney Head from Behind."
Previous contest winner, Ricky Sprague, wrote, "He is called "The Professional Football Athlete"! (I don't know much about the specific football teams, or I would name him after one of them, but the only ones I know of are the Patriots and the New York team ("The Mets"?) that beat them in the playoffs this year! And he doesn't look like a "Patriot" to me…!" Ricky also quoted Samuel Johnson, and mentioned that "Samuel Johnson also had gonorrhea!"
Previous winner John Desy wrote a copious origin back-story, among other things: "I see that this man must have sustained a serious head injury as a young boy. While imitating his favorite sports hero, Merlin Olsen, lineman for the Rams, our hero ran headfirst into a large man's rear end. After this butt ramming our hero was never right again. He began tying Rams horns to a football helmet and donned brown knee pads and underwear for obvious reasons." John continues, and suggests our vigilante be named "The Anal Rapist." Which we found entirely unsupported and crassly out-of-the-blue, based on the clues — until he explained, "He does have other interests, after all."
Last week's lucky winner, Benjamin Ilka, wrote, "He served his nation with honor as a meat packer…until they took his job away and left him to hitch hike across America. It all would have been fine if he had not stumbled into a company-owned meat packing town, Meatopolis. There the unruly sheriff chased him into the woods to kill him, being envious of his meat packing skills…"
But this week's luck winner is also a first-time guesser…NOT because he or she is the only one who hasn't won a prize, but because he or she was THE ONLY PERSON TO CORRECTLY GUESS THIS WEEK'S VIGILANTE'S NAME! (This is a technique we have never used to determine winners, fans! Who said we'd ever be fair?)
Congratulations to Rossi Gnoll, who also guessed, "Horny, Horny Man, Horny Lad, Sneaky-Rammer-from-Behind, and who said "I think Chris Wisnia looks a lot like Obama!"
SPIDER TWINS MINI-COMICS ARE NOW AVAILABLE FOR PURCHASE! Go to merchandise page to learn more! You can BUY ONE OR ALL THREE (3) Spider Twins Mini Comics ("Pink," "Blue," and "Lilac"), PLUS FREE Creator's Commentary CD!