WHO IS … ?
Click and read the "Rules" link, fans! Then email me your answer, and YOU could win the FREE WEEKLY PRIZE! -Rob!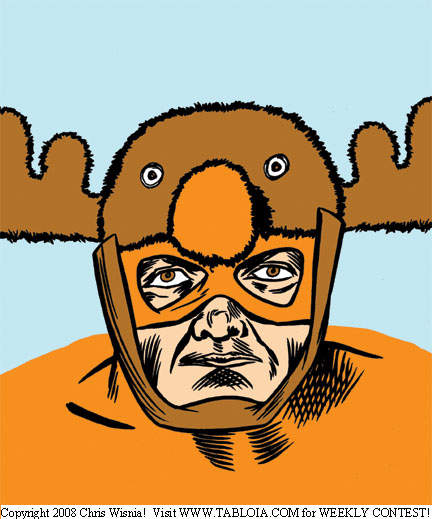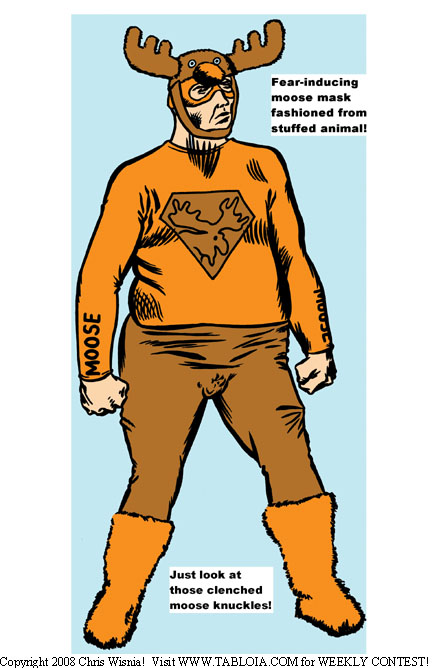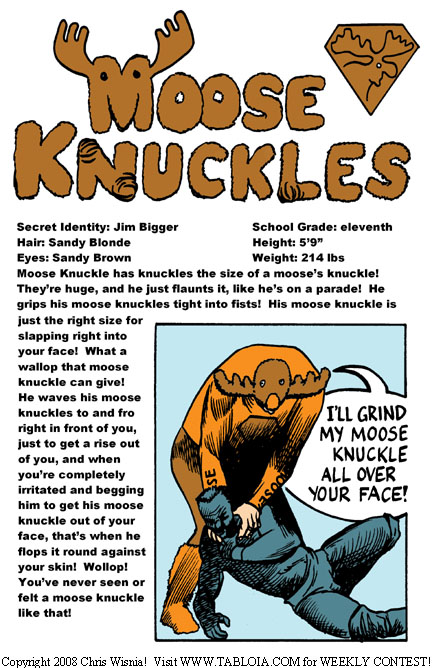 CONTEST RESULTS!
And WHAT a contest!
Previous contest winner, Dev Quin, guessed, "1) The Uber-Moose, 2) Moose Hat McGirk, 3) The Brown Moose, cousin to the non-existant Spider Twin's character The Brown Goose." He added, "I'd also like to guess "Strap On Moose" if that is something dirty…it SOUNDS like something dirty, but maybe not. I have no idea what the kids are doing to each other these days." Then he wrote back, literally two minutes later, to say, "I just looked at the ads for the mini-comics and now I know his name is "Moose Knuckles." That is my new entry…now I just have to go read the internet and figure out what Moose Knuckles are. I'd type that guess here, but I know you'd only publish it in the blog. A life can only bear up to so much scrutiny, ya' know?"
Previous contest winner, Ricky Sprague, broke and expanded the laws of contest-guessing yet again, by being the first entrant to submit a rhyming poem guess in verse!
"Fearsome and frightful,
Some say delightful!
The villains' knees buckle,
When they see MOOSE KNUCKLE!"
Previous contest winner, Sean Messina (who you'll remember made nineteen predictive guesses, last week, for this week's vigilante — before the character in question was pictured), wrote AGAIN (AFTER this week's vigilante was pictured) to ADD to his guesses from last week, making for an untopped THIRTY-NINE NAME GUESSES! Here's his comprehensive list:
1. Moose moose
2. Brown and oranges moose antler man
3. Horney moose
4. moose antler clinched knuckle man
5. clenched moose knuckle man
6. antler man
7. smelly spitting antler man
8. smelly biting antler man
9. (insert sexual reference here) antler man
10. multi-testicular antler man
11. moose
12. norm
13. latest U.S. Post Office official uniform
14. the incredible moose-knuckler
15. not enough socks stuffed into his crotch
16. negative balls man
17. not the camel toe guy
18. HDTV reception man
19. moose pooter
20. moose monkey
We applaud your dedication to the guessing, Sean! Keep up the good, thorough work! Brand new guesser, "Romulus," guessed "Bull Moose or Moose Droppings."
And previous contest winner, Tyler Rork, guessed, "the elusive Moose Metatarsal"!!! After reading Tyler's guess this week, we did some research, and found that Tyler has used the adjective "elusive" to describe four of his five guesses! And interestingly, the week he won the contest was the only week he didn't include the adjective "elusive"!
That's a lot of guesses this week, fans! Congratulations! But there can only be one winner, and this week, the winner is…"Romulus!" Congratulations, pal! We'll be in touch about your fabulous WINNING POSTCARD!
And previous winners, we want you to know…we've been unfair in the past, and declared guessers the winner, even if they didn't deserve it! But honest to gosh, the last two weeks have been legitimate drawings, and we plan to continue that honest winner-giving…for now…so PLEASE KEEP GUESSING! -Rob Oder, Editor-in-Chief!
SPIDER TWINS MINI-COMICS ARE NOW AVAILABLE FOR PURCHASE! Go to merchandise page to learn more! You can BUY ONE OR ALL THREE (3) Spider Twins Mini Comics ("Pink," "Blue," and "Lilac"), PLUS FREE Creator's Commentary CD!