WHO IS … ?
Click and read the "Rules" link, fans! Then email me your answer, and YOU could win the FREE WEEKLY PRIZE! -Rob!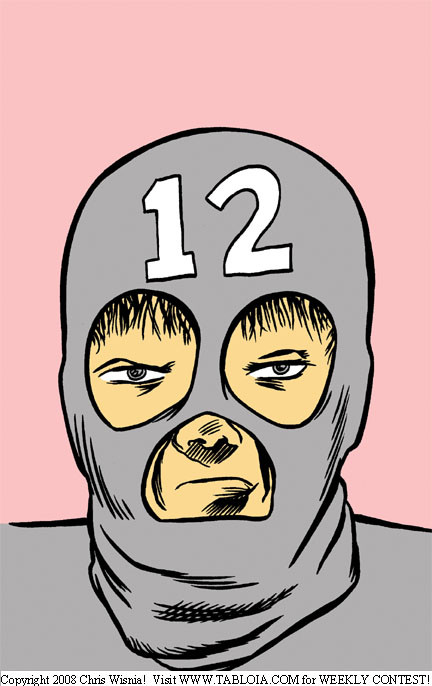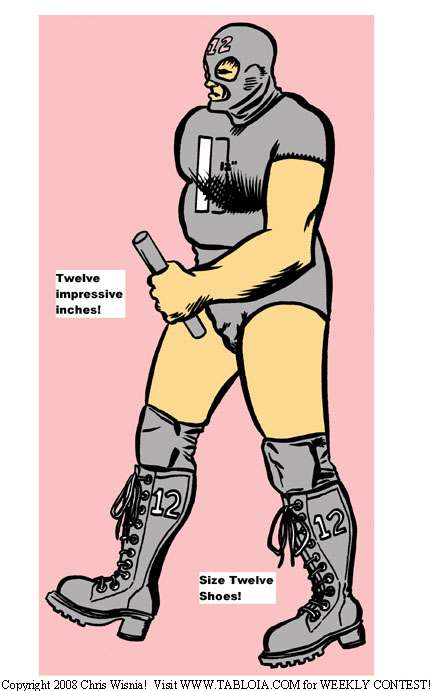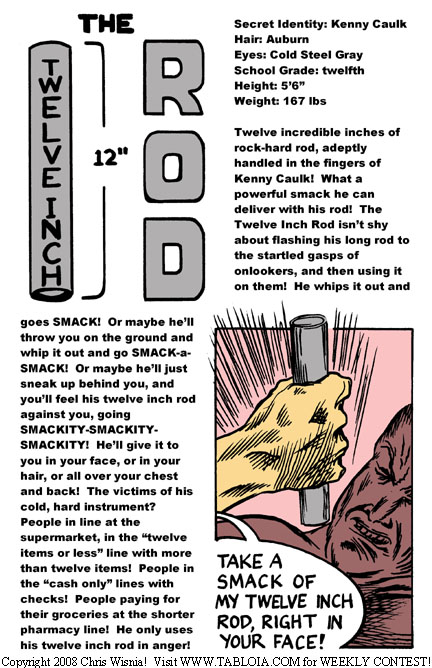 CONTEST RESULTS!
Basically unbelievable!
As you must be aware by now from this week's announcement (below), this is the final WEEKLY Spider Twins contest, fans! But NOT the final Spider Twins contest, by any means! The Spider Twins WEEKLY contest will now be anthologized among other features, in the upcoming "TABLOIA WEEKLY MAGAZINE" web comic! Stay tuned at www.tabloia.com!
As for this week's contest, we had a number of interminable lists of name ideas! Let's take a look:
Previous contest winner, Dev Quin, guessed (upon seeing the head shot): 1) Ole' Gray 12 hood, 2) The 12 step Program, 3) The Dozen, 4) Fingers and Toes (He had 8 of his toes cut off in an accident.), 5) The Greek Gods (Has all the powers of all 12 Olympian Gods), 6) Norman Mailer's evil cousin, Butros Mailer, 7) Jerry Orbach's evil cousin, Butros Mailer (A different Butros Mailer, oddly.), 8) One Donut Shy of a Baker's Dozen Man, 9) The Twelve Ton Nut Sack (Carries around a burlap sack full of nuts weighing in at twelve tons.), 10) Ernie, 11) The Loch Ness Monster (Cleverly disguised as Butros Mailer from #7, but actually the Loch Ness Monster), 12) Chris Wisnia, 13) The Masked Twelvesy, and 14) Super Eleven plus one! And then he wrote back to further guess (after the full-body shot): 1) The Big 12 inches, 2) 12 Inch Rod, 3) The hard 12 inch rod, 4) The Big hard 12 inch rod, 4) the Foot long pipe, 5) the one foot tube, 6) The Cylinder of 12 inches length, 7) The Boring, yet long, tube of metal, 8) Mr. "More than 11 inches Long" Object, 9) Super Rod, 10) The Uber-Foot, 11) Still Chris Wisnia, 12) Two-Elves, the Itchy pipe-cleaner, 13) Hot Rod the foot long Vigilante, 14) He who walks with lead, 15) El Piparino, and 16) 12 inches of long, hard rod coming atcha' Man!
Previous contest winner, Sean Messina, guessed, 1. Long Hard Pole? Nope, that's taken, 2. The Twelve Inch Rod, 3. Long tall sally, 4. The Needle, 5. Foot Long, 6. Fabulous Foot Long Lover (the FFLL), 7. The magnificent 12 incher, 8. Crying Man – because it's the last week for guessing…, 9. Laser, 10. Rod, 11. Long Rod extension (sponsored by Enzite), 12. Jiffy Stiffy, 13. Morningwood, 14. Rectal Probe, 15. Love Gun, 16. Dr. Love, 17. I don't need to compensate for my inadequacies since I don't have any! Man, 18. Love Machine, 19. My Erection lasted longer than 4 hours Man (sponsored by Viagra), 20. Plastic Man, 21. Elastic Man, 22. Stretch Armstrong, 23. GI Joe, 24. Walking Tall, 25. That's not a roll of quarters in my pocket I'm Just glad to see you, "man", 26. Banana Man, 27. John Holmes, 28. Thriller, 29. Jake the Snake, 30. Rowdy Roddy Piper, 31. Tricky Dick, 32. Der lange Phallus, 33. Zwolf Zoll Rod, 34. HR PuffNStuff, 35. HP Lovecraft, 36. Der Weinerschnitzel Man, 37. Stuffed Sausage Man, 38. Udderly Long man, 39. Tap, and 40. 12″? Just Kidding Man!
Previous contest winner, Benjamin Ilka, guessed, "Twelve Inch Dick Guy!"
Previous contest winner, Ricky Sprague, guessed, "THE LAST OF THE DOZEN"!
And this week's winner goes to…our first TWO-TIME WINNER in the history of our weekly contest…DEV QUIN! Congratulations, Dev! We're so proud of you, and will be getting in touch regarding your exciting prize!
And as for the rest of you, thanks for all the fun and participation! -Rob Oder, Editor-in-Chief!
ANNOUNCEMENT!
It is with grim forlorness that we must announce…This week marks the last Spider Twins WEEKLY CONTEST, fans! BUT DON'T DESPAIR! The end of the WEEKLY contest means the TRIUMPHANT RETURN of "TABLOIA WEEKLY MAGAZINE"! And as you all remember, "Tabloia Weekly Magazine" periodically runs SPIDER TWINS CONTESTS, so this is not by any means the end of the SPIDER TWINS!! More details at www.tabloia.com!, the official website of Tabloia Weekly Magazine! -Rob Oder, Editor-in-Chief!
SPIDER TWINS MINI-COMICS ARE NOW AVAILABLE FOR PURCHASE! Go to merchandise page to learn more! You can BUY ONE OR ALL THREE (3) Spider Twins Mini Comics ("Pink," "Blue," and "Lilac"), PLUS FREE Creator's Commentary CD!