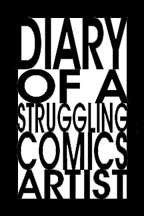 COMING TO UNDERSTAND, AND COPING WITH, JUST HOW PATHETIC I AM
diary entry, December 21, 2006
Now that Larry Young had posted a link to my site, referencing my sad self-publishing attempts to a whole new audience, I just wanted to get in touch with him. I wanted some form of validation. I desired to know what public perception of me was. I wasn't upset with Larry. I was flattered that he would give me this extra press. I just felt I needed to hash out what exactly this debate was about, and what my role was in it, and indirectly, what my role was in this industry.
He wrote back and told me any press is good, and he was happy to send some hits my way. He wrote that he felt I was a good example of someone who's doing everything right, in his opinion, and still basically having nothing to show for it. Getting no respect or attention, so to speak. He said the only thing he thinks I could try doing more of is getting in touch with the stores and letting them really know who I am and what I'm doing. And of course he's right.
I asked if he thought I was humiliating myself for admitting my pathetic sales numbers, and he said he didn't. However, he said I might not want to talk about all the companies I've tried to get work from, because I've tried to get work from ALL the companies, and that may read that I'm not good enough to get work from ANY companies.
I sat on that thought for a while. I re-read my blog entry. I noticed how I'd discussed my process of trying to introduce myself to one company after another, and get them interested in my work. I could definitely see his point.
But I decided something in the end here. This is my blog, and the whole point of this blog was to try and portray just how it's been for me, trying to get into this industry. And all my failures of applying to EVERY COMPANY and not getting work from ANYONE, for years and years, has been a SERIOUS part of my journey. It's been an enormous, and enormously important part of my journey.
When I decided to begin writing a comics diary, and as I began recording all these entries of my past, I looked at the blogs of a few famous comics artists (not a lot, but a few), and I looked at a few blogs of some of my friends and acquaintances in the industry, who are basically in the same spot I'm in. And what struck me was that no one (in my limited searches) had anything to say about STRUGGLING TO MAKE COMICS AND TRYING TO GET THEM OUT IN THE INDUSTRY. It seemed like people were writing basically spam mailers about what coffee shop they're doing a signing at, or when their books will be out and how to order them, or that they did a commission of Captain America today and here it is. Or they'd discuss their thoughts on some current events, or a link to a funny image they found online, or maybe some goddamn dream they had (For some reason I've always had a dislike of hearing about dreams people had).
So all these things are fine. These are perfectly valid reasons to have a blog. But that's not what I wanted to do with my blog. I wanted to tell it like it is. Like the industry is. I wanted to point out how much work it is, and how precious your work is to you and how much you put into it, and how no one even notices the love and hard work you're pumping into it all. No matter the hard work and love and time and effort, you're still a nobody, after years and years. And you work your balls down to little nubs, and no one sees that, or cares to compensate you for it. That's what I wanted to discuss. That's a story you don't see in Hollywood very often.
I know someone who only sold ONE GODDAMN TRADE PAPERBACK AT A TWO-DAY CONVENTION, and when he got back, he wrote in his blog what a good con it was. THAT'S NOT A FUCKING GOOD CON. AND THAT'S SURE IN HELL NOT A VERY GOOD DESCRIPTION OF WHAT THIS GODDAMN INDUSTRY IS LIKE.
Ahem. And all of that's fine. Anyone can write about whatever they feel like in their blog. They can use their blogs for whatever purpose they choose, and hopefully other people are getting something valuable out of these blogs, either because these blogs are written by their idols, or their friends or family, or it's someone they met at a con, or they found their book at a local shop. Or it's entertaining for whatever reason to them. Whatever. That's all fine.
But that's a different purpose than I intend with my blog. Goddamn if I'm not going to write about WHAT IT'S LIKE TRYING TO SELF-PUBLISH COMICS, AND LOSING MONEY EVERY ISSUE, AND LOSING MONEY EVERY CONVENTION I GO TO, AND TRYING TO GET WORK IN THIS INDUSTRY AND SOMETIMES THINKING I MIGHT JUST GET WORK BUT THEN NOT GETTING IT, AND MEETING ALL THE PEOPLE YOU MEET AND ADORING AND RESPECTING THEM, AND MEETING ALL THE PEOPLE TRYING TO GET INTO THE INDUSTRY AND IT BREAKING YOUR HEART HOW THEY JUST NEVER WILL, AND WONDERING IF YOU SHOULD GIVE UP ON YOUR DREAM, AND ALL THE PEOPLE WHO ARE PROFESSIONALS AND THE SAD, UNAPPRECIATED LIVES THEY'VE LED TO TRY TO LIVE THEIR DREAMS, AND TRYING TO COME UP WITH STORIES, AND TRYING TO DRAW THEE STORIES WHILE HAVING A DAY JOB BUT HONESTLY JUST NOT HAVING THE TIME, AND WISHING YOU DIDN'T NEED A DAYJOB TO SUPPORT YOURSELF DOING SOMETHING YOU LOVE, AND TRYING LIKE HELL JUST TO MAKE A LIVING AND SURVIVE, and your free time isn't for watching tv or hanging out with friends or playing video games or going out with your girlfriend or wife, IT'S ABOUT JUST DRAWING EVERY SECOND OF THE DAY YOU'RE NOT EATING, SHOWERING, OR AT WORK, BECAUSE IT MEANS THAT MUCH TO YOU. And now that I'm saying it all like this, Yeah, I'm feeling pretty pathetic. And maybe some companies will decide to judge me or the quality of my work based on all this pathetic sadness that is my life, instead of looking at my work.
Sometimes I say derogatory things about my work, inside my comics, or even on the covers. Certainly in this diary. And I wonder if sometimes people see the comments, and instead of looking at the work and deciding for themselves, they just believe anything they read, and assume the work isn't any good. I've decided probably some people do that, but if they're that kind of people, they wouldn't enjoy my work anyways. So I'm assuming companies that would judge that way about my work wouldn't be good publishers for me in the same way.
But I can live with that. So be it. That's the path I've chosen, and I'm finally beginning to get a few people writing in now and then, and telling me they're really getting something out of hearing all these pathetic details in my blog.
Besides, if I ever do make it in this goddamn industry, it's gonna look pretty impressive how pathetic I am and that all these companies passed on hiring me, don't you think? That'll make a much better Hollywood story. Isn't that alone worth all the pathetic-ness. That Billy-Corgan-style of locking my self pathetically in my bedroom, shouting at my mom to leave me alone I'm not hungry, and just sitting angrily pent-up with my guitar, practicing my scales for nine hours a day, tears streaming down my face as I hate the world and think with vengeance, "They'll all be sorry one day, when I'm a FUCKING ROCK STAR!"