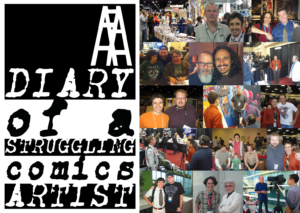 This project is a long time in the coming, everybody!  We filmed so much footage, we finally had to cap it off, and even THEN we still slipped in one last interview with Kelley Jones!
We interviewed so many great artists (100 hours?  200? A list is HERE), and it's been so daunting, that after eight years of notating and frustrating stops-and-starts finding an editor, we decided we'll take it a small step at a time, and Patreon here is the perfect place to do that.
As we compile and edit each one-to-four minute clip of some of our favorite artists, we'll get it out to you, here at Patreon, and then get to work on the next one.  We're thinking long term, so that in a year, we'll have enough great clips for a full length documentary, with a lot of the work already done.
Here are the kinds of subjects we've been broaching, and you haven't heard these kinds of answers in many other documentaries:
How I got into the industry
My first portfolio review
Quitting my day job
Constant hunt to find work
Non comics art-related jobs to help pay the bills
Family and friend stresses
Working for the Big Two vs. Creator-Owned
Paycheck vs. ownership
Hollywood deals
We're so appreciative of your support while we get this put together, and we look forward to sharing all these clips, which we hope you'll really enjoy!  More soon!