COMMENTARY:
Color by Chris Wisnia. Inks by DICK AYERS!
THE FIVE PAGE STRUCTURE
Doris Danger's stories began as somewhat of an exercise, when I was only an aspiring comics creator. I'd spent a lot of time doing portfolio reviews, and Alex Sinclair gave me a review at a DC booth at my first San Diego Comic-Con in 2001. He recommended I try doing some stories in a four page format, because it's not a big commitment (for an editor to look over, or for me to write and draw it), but it will show editors my quality of artwork, my storytelling technique, and my narrative understanding.
This sounded like a fun format to play with, because I'd always been trying to pitch three or seven issue stories, so I did a few stories with a couple characters I'd been mulling over.
I brought these samples to San Diego in 2002, but this time, I didn't wait in line for portfolio reviews. I was tired of getting rejections from publishers, and had decided by then to try to self-publish my work.
INCLUDING GIANT MONSTER PIN-UPS
I thought it might be a nice feature of my book if I could convince some artists to draw pin-ups of my characters and let me publish them in my books. It would give potential readers a reason to flip through the book of an unknown creator and maybe give it a try, but also I wanted to show a connection with comics and creators who had influenced my work, and a sort of respect for comics history. Mike Allred's Madman book was a key inspiration of this for me. All his comics just bulge with his love of the medium, in my opinion.
MEETING DICK AYERS
Here's a commentary video on Meeting Dick Ayers.
Dick Ayers was at the con, and was one of the few artists who gave me his contact info when I asked if he'd do a pin-up of one of my characters.
On the trip home I started fantasizing, because it didn't seem achievable, about all the artists I thought it would be just impossibly cool to somehow find and get pin-ups from. And then, in a flash of dazzling clarity, I had this crazy idea, and it made me literally jittery at the thought of it. I couldn't sit still, and had to get up and pace around for a while.
HATING JACK KIRBY
Here's a commentary video on Hating Jack Kirby.  When I was young, I would look at Jack Kirby's comics and think, This guy can't draw! He has no understanding of anatomy. All his women look like barrels. Why is everything so shiny? And if I accidentally bought a comic and got it home and realized Jack Kirby drew it, I'd be livid that I'd wasted my money.
But after college, when I started looking at comics again, I started thinking. Well, I enjoy abstract art. And I learned that photo-realism isn't everything. There are other aspects of art besides its photo-realism. Other aspects of realism, for that matter. And I began to look at Kirby with new eyes, and realized just how much ENERGY every single line conveys to every panel, and suddenly thought it was actually the best comics work ever!
GIANT MONSTER COMICS
Here's a commentary video on The Old 1970's Marvel Reprints  ($7 Patrons).
So of all the comics out there, even of all the Jack Kirby comics out there, there's just something magical for me about those Kirby giant monster stories. The strange, humongous, awkward anatomy, square-fingered, lumpy creatures with their weird flat teeth and finger nails and scales and bumps and hair and piercing eyes, wearing underpants … I don't know what it is, but I just can't get enough of them. And there were so many of these stories!
So knowing Dick inked  tons of this work, and now having his contact info, I fantasized, hey, if I tried to write a energetically Stan Lee-style giant monster story, and then drew it in a Kirby style … wouldn't it be just absolutely amazing, if just maybe … Dick would ink it for me.
I timidly wrote the legendary "Darlin' Dick" Ayers, and he was totally up for inking a five-page story. I couldn't believe it. I got to work. And in two weeks I'd written, penciled, lettered, and put in the mail "Spluhh … The Thing who burst from an exploding volcano!"
PRELIMINARY SKETCHES
I don't tend to do preliminary sketches, or much work in sketch books. What little I've done of them, I find when it's time to apply the studies to the comics pages, I just copy the sketch into the work as best as I can, and then it's time consuming to try and capture what I achieved in the sketch, which I often can't, and then I duplicate the same mistakes but lose the energy of the original.
However, I did find a mere ONE PAGE of prep work sketches for this project. See the first image in the Pencils link.  It's got a dozen monster faces – none drawn in a Kirby style, but just positioning different eyes and mouths, and then three body shots – two are just sketches of monster postures, and one is Spluhh, basically, how he looks on page 2, but a little squarer and less fluid. The second Pencils image is a close-up of this first Spluhh image.
The third Pencils image is the actual page, before Dick inked it.  I copied my three inch sketch of Spluhh onto an 11″x17″ Bristol sheet. I went over my notes, chose an island as the setting (because I thought it would make a good splash, and so I could have a volcano erupt at the story's climax). Then I flipped through all my comics and found stories that took place in a tropical setting, copied natives in peril, palm trees, and Oceanside cliffs.
Here's a clear example of some "swiping":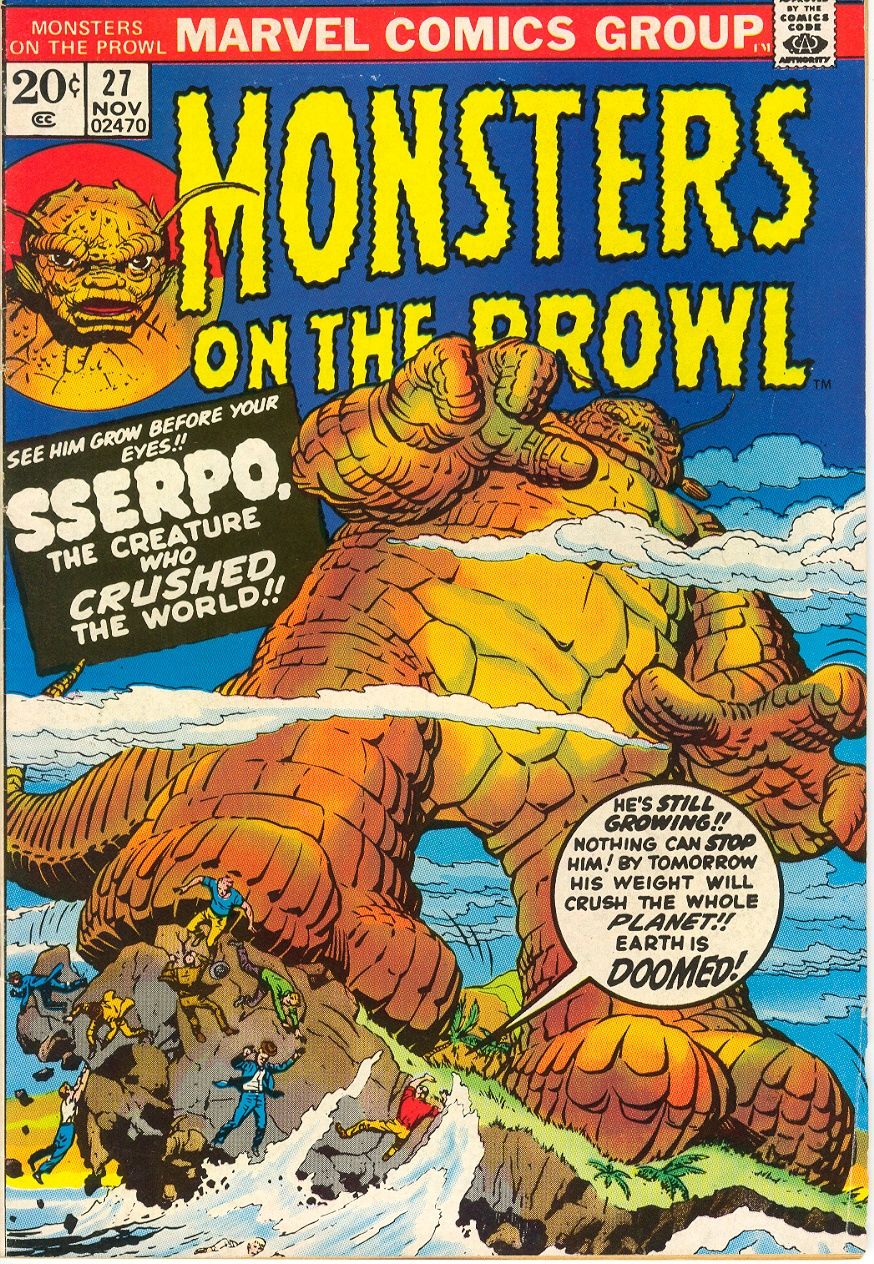 This image is the cover to Monsters on the Prowl 27 (Marvel Comics, 1973), which was a reprint of Amazing Adventures 6 (Atlas Comics, 1961).  Notice the cliff at the bottom, with waves splashing up and little people in peril.
I had already come up with plenty of monster names (Here's a commentary video about Naming Giant Monsters ($7 Patrons)), so I picked one from my list. Then I made up a slogan, and some natives-in-fear text, shouting the name "Spluhh", and that was that.
TWO MONSTERS??
If I can trust my memory, my initial idea was to have two monsters on this first cover, but my mind's eye wasn't making very good use of the space of the page as I penciled it out, and I ran out of room, and THAT'S why there is only one monster. I can't remember if the thought was to have two slime monsters, or two different kinds of monsters (which I did for CHAPTER FOUR'S SPLASH).  I suspect based on how the story developed into possibly more than one monster hiding in the cave, that it would have been two slime monsters.  But this concept disappeared early, since I drew the cover BEFORE scripting the story.
SIGNED, "WISNIA AND AYERS"
I thought it was funny to have a soldier pointing in shock at my signature. You'll notice this page is signed "Wisnia and Ayers." I told Dick I wanted the pages signed this way, and when I drew up a contract for him to ink the story, it actually stated as a condition that the story would be signed "Wisnia and Ayers." The reason this was so important to me was that the Atlas giant monster stories were signed "Kirby and Ayers."
I asked Dick about those signatures once in an email, and he told me when he got the pages to ink, he never knew who wrote them, but he always knew Kirby drew them, so he would sign both their names to the pages.
My original page is actually signed "Wisnia and Dick Ayers," so I actually edited Dick's signature.
It was always part of the page's composition to add the "originally presented" blurb at the bottom, because the seventies Kirby-Ayers reprints always had these. And as I said, I'd planned to pretend my fictitious magazine had been running for decades.
You'll notice I dated the original issue 1953. When I later showed my story to Kurt Busiek (at the A-1 Comics – Roseville, CA – Store Signing 2004 – pictured below, photo courtesy of the Nice Guys www.theniceguycomic.com), he said, "But you got your dates wrong."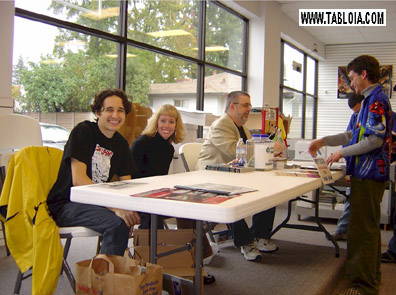 He was right. I thought that the giant monster stories had come out throughout the fifties. But when I found out they were early 60's, I left the '50's concept, explaining that all Doris Danger's exploits had happened throughout the fifties. I even had editor Rob Oder address this issue on a letter on page 55. And this is a technique I used regularly. Whenever I did something wrong, whether purposely or accidentally, or felt insecure about something, I would have an angry fictitious reader call attention to it on a letters page and have Rob make flimsy excuses about it.
The Pre-Edits image is how the page first appeared in "Tabloia Weekly Magazine #572 (Doris Danger's first appearance), the self-published reprint, "Doris Danger Seeks … Where Giant Monsters Creep and Stomp," and for a third time in the SLG book, all of them black-and-white.  The colored, Published version, ironically has never seen print.  I colored the image for a sign I had made, that I took to conventions to have at my table.











Intro   CHPT. 1   Chpt. 2
SPLASH PAGE ($4 Patrons) 



Meeting Dick Ayers (Public)
Hating Jack Kirby (Public)
The Old 1970's Marvel Reprints ($7 Patrons)
Naming Giant Monsters ($7 Patrons)