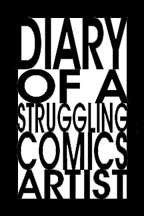 diary entry, February 10, 2007
We had of course heard the one-year-old-but-already-legendary tales of the first annual "New York Comic-Con," and how it was sold out in minutes, and how even people with tickets were not getting allowed in, due to fire code problems, maximum public allowances, SWAT teams called in with bullet-proof visors, shields and billy clubs, and riotous mob-scenes of angry comics fans desperate to get into the con.
So this convention had been on my mind this year, just in a "wouldn't that be fun to try and get out to that con" sort of way. But I didn't think very seriously about it . . . UNTIL I realized Jetblue was having a special on flights from Sacramento to New York for only $150 each way! WOW! I saw the special, and said to Elizabeth, "I know we've already got a pretty heavy comic-convention schedule booked this year, but A HUNDRED FIFTY DOLLARS! What do you think? I looked at the convention website and didn't see anywhere to print a form for a table request. They had an email, so I wrote them that we'd like to come, and we bought our airline tickets.
I wanted to take advantage of those tickets, so I bought tickets, even though I didn't get a response from the con. Two weeks later, I still hadn't heard anything, so I emailed again, and then I emailed a different email I found at the website. I wrote that I was still waiting to hear back, after two weeks, and would appreciate a response.
That day I got a response saying briefly that the convention's artist alley tables were sold out. Ugh. I wrote back explaining that I was from California and had unwittingly already bought airline tickets, and is there any chance I could get on a waiting list? Or are there any exhibitor tables available? Or is there anything I can do? They wrote back that there is nothing I could do, because the waiting lists are also filled. They said they could offer me a special promotion however. When I inquired about it, I learned that their promotion was for me to spend $3000 to place an ad in their program schedule. I said I couldn't afford it, but may consider running a half page ad, if it might help them consider me for any tables that opened up. They apologized again, and tersely and humorlessly replied that no tables were available.
At that point, I called a phone number I had found at the website. I was able to talk with someone, and explain my situation, and subtly mention I had a baby son. We had a nice talk, and this person was sympathetic and kind, but once again said that they just didn't have any tables. They said they picked a location that was double the size of the first year, and they should have tripled it, because there were two hundred people that weren't able to get tables.
I told him we would be flying out no matter what, so I'll be sure and introduce myself, and maybe, if nothing else, he can think of me for the next year. He gave me his address, and I sent him some books. On the envelope, I wrote, "Hope you'll consider me if any tables happen to open up. Did I mention how handsome you're looking?"
I emailed him a couple weeks later to see if he'd received the books. He sent a nice reply. After a few more exchanges, he actually gave me complimentary pro badges into the con. I really felt they wanted to help us.
We got our hotel set up. I continued to check in with him occasionally, every couple weeks.
I wrote to a bunch of my fellow comics professionals, some of them lowly self-publishers like myself, others big names in the industry. I let them know about my situation trying to get a table. Jim Steranko wrote me back that he wasn't able to get a table either, but he told them he was Mike Grell, and then he got the red carpet treatment. Heidi MacDonald wrote me that getting a table at NYCC is more difficult than getting a hotel at San Diego.
Whenever someone wrote me witty replies like these, I would write to the con and share with them, and usually get a laugh in reply.
So this goes on and on, and now we've gotten to the point where the con is a few weeks away. And it just felt like nothing was working out. It was going to be an expensive trip, even with the cheap airline tickets, and our little boy was only six months old, and was still quite a handful. Elizabeth was exhausted because she was up two or eight times a night with the little monster, and then back to work full time during the days. Our relationship was beginning to feel pretty stressful, even though we had discussed in advance and decided it would be all right to do all these conventions basically back-to back (New York Feb 23, San Fran Mar 2, L.A. Mar 16, Seattle Mar 31, San Fran again April 22).
We had decided it was okay, because we figured, when the little guy gets to be two years old, we'll need to buy him an airline ticket, so maybe we should hit conventions now, before that happens and our expenses get bigger. But now that we'd committed, and the dates were approaching, and now that we saw how tightly frequent they would be coming up, we wondered what in the fuck we were thinking. Especially Elizabeth, who just wanted to get an extra hour of sleep, and not be flying all over the goddamn U.S. for comic conventions of all things for Christ's sake.
I finally told her, Look. Let's not put ourselves through this. Let's just cancel the trip. Nothing is going our way. Nothing is working out. Let's just not go, and eat the cancellation fees of the hotel and airfare. Let's just tell the con, We're sorry, we really appreciate everything you've tried to do, but we're just not going to be able to make it out after all, and thanks so much for everything, and we look forward to coming next year.
When we made the decision, it was such a relief. I called and cancelled our airline tickets, which cost thirty bucks each (sixty bucks), but it was like, Fine, fuck it.
I called the hotel, which I thought was going to be twenty-five dollars to cancel. But they had no record of our reservation. I thought, Is this some freak stroke of luck, that our reservation got screwed, and it will save us twenty-five bucks? Then I emailed the convention.
The next day, I tried calling about the hotel reservation again. I had booked the room through an agency, so rather than call the hotel, which the website suggested, I tried the agency. They told me 1. that I DID have a reservation, but that it hadn't been entered into the hotel's computers yet (so I would have to cancel my reservation anyways), and 2. that I missed the deadline for a mere $25 cancellation fee, and would instead have to pay $150. Shoot. So I'd have to call the hotel in a few days, once they had my reservation in their computer system.
And this is when the weird workings of fate began fitting together in mysterious configurations.
The next day, I got an email from the convention, asking that I call them. When I called, they said, if I hadn't cancelled my reservations yet, four feet of convention table became available that they could offer me. I told them I'd talk with my wife and let them know by tomorrow, and they asked if I could let them know today.
I called Elizabeth and told her the news. I told her I was leaning toward thanking them, but telling them it was too late at this point. I decided to check the prices to re-buy airline tickets, but I couldn't imagine it would be worth it, because first of all we'd never get as good a deal, and second of all it would have to be sixty dollars better than the good deal we'd originally gotten.
And there at Jetblue's website was an ad for tickets to New York for $99 each way! That meant, by thinking I was screwing myself out of sixty bucks for canceling the trip, I instead saved myself $140! Amazing!
Elizabeth and I decided she and Oscar would stay home for this trip. I frantically looked for a friend who was willing to go with me with only two weeks of notice, and confirmed to the con, that same day, that we would be there after all.
And since I had been unable to cancel my hotel reservation, I was coincidentally all set on that end. Just a week after deciding to cancel the trip, through all that hard work and crazy coincidence, it somehow all came together, and I was miraculously heading to the second annual New York Comic-Con!