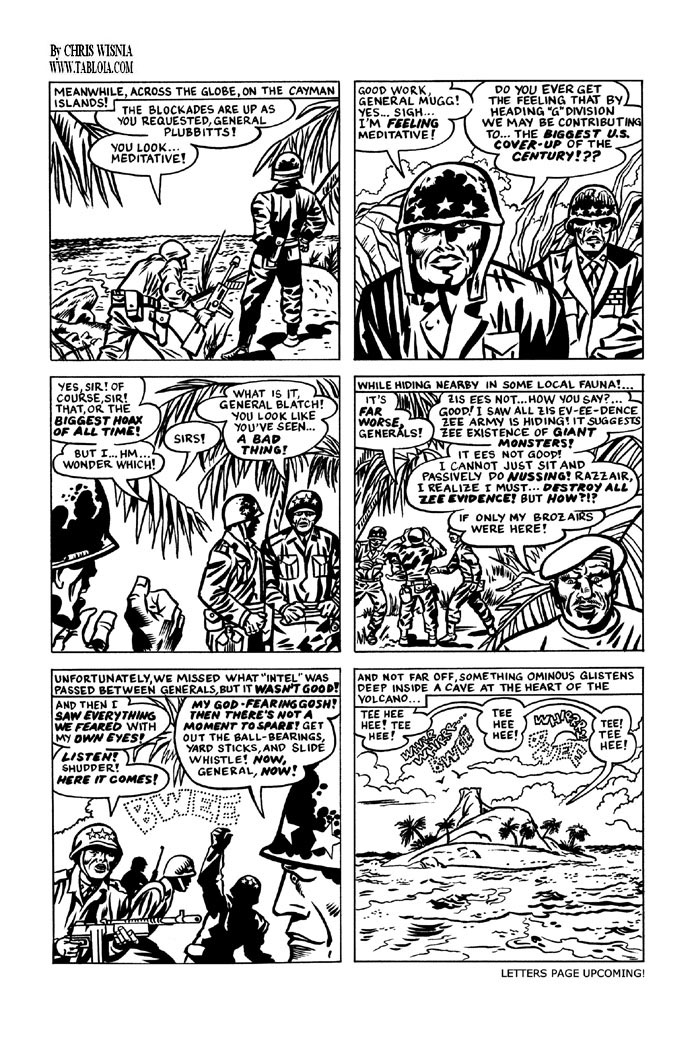 SIXTH CHAPTER:   previous   first   next
STORY ONLY:   previous   first   next
ARMY "G" DIVISION 



CAYMAN ISLANDS 



FRENCHIE  



GIGGLING SCIENTIST 


COMMENTARY:
This page was an attempt to bring back some elements as "recurring," and suggest there was a bigger story than what was told in the very first Doris Danger story. Maybe not answer much, but at least show I haven't forgotten it. And suggest things were happening on the island before that first story, and that maybe, if we kept reading, WE MIGHT LEARN WHAT IT ALL WAS.
It was written May 26, 2005, to be added to the originally 5-page script. The rest of the story was written March 16, 2005.
We are back at the Cayman Islands, and in fact, the drawing on panel 6 was basically a redraw of the first story's first page's panel 3. I tried to change it up, and make it look like a drawing from the opposite side of the island.
So we reference the Cayman Islands, the army on the island putting up blockades that we saw in the first story and suspecting something is impending, the ZWEE soung (which we already know is the UFO's, because we saw them "zwee-ing" in the first story), and the TEE HEE laugh, which we've already seen is the Giggling Scientist.
We also realize the evidence-hiding Frenchman was on the island, who mentions his brothers, whom we can presume would be able to help him hide evidence.
Despite all these references, I still felt these pages were pretty vague. The army men talk vaguely about hoaxes vs cover-ups. What are they talking about? I didn't know or care at the time. They talk about seeing "a bad thing." Once again, which I put in quotes, hoping that would make it funnier, rather than just trying harder to come up with something funny. Then I panned to a different scene (the Frenchman) so that I wouldn't have to explain or come up with what they were talking about, and then continued their conversation about "seeing everything I feared" but not explaining what it was. So now they're in a hurry, with their ball bearings, yard sticks, and slide whistle. (In the original script – below – you'll see that the joke was even more lengthy – "GET OUT THE SLIDE WHISTLES AND FLY SWATTERS, CHEESE GRATERS, POTATO PEELERS, BALL BEARINGS, LUBRICANT!"
Finally, much, much later (August 15, 2009) I realized how uncomfortable I was with all this, and figured out exactly what they were talking about and what happened, and what would happen next with ball bearings, yard sticks, and slide whistle. It's funny how things just come to you, when you spend enough time gnawing on them in the back of your head.
This style of writing (ball bearings, yard sticks, and slide whistle) I think I heard a comedian use when I was in high school. Just naming idiotic random things that make the listener wonder what on earth they would all be used for together. When I was young I thought this was all quite funny, although now I don't find it amusing anymore, perhaps because I've just done it for so long, the novelty has worn off. Like how now, I can't watch the movie Airplane and get any laughs out of it, because I've heard ALL THOSE JOKES so much, EVERY DAY in everyday language, none of it is funny for me any more.
But when I was in high school, I ran for the public office of "Rally Commissioner" – and I used that kind of humor for my campaign. I put up probably ten signs around the school that said things like "Chris Wisnia for rally commissioner – the most fun you can have with a ball of string" or "spaghetti strainer" or "cheese grater" or whatever, or "You don't have to have a container of yogurt to have a good time! Chris Wisnia for rally commissioner" – things like that. So these kinds of gags were just a fall-back on what I knew and felt comfortable saying – even if they weren't necessarily particularly funny.
It's an interesting exercise to take the clues already presented in stories I've published and then GO BACK and force them to fit a storyline. But I decided I needed to get at these kinds of answers and specifics, when I left all these glaringly vague statements peppered throughout the pages. The origin story was supposed to help fill And thus I began the origin story.
This desire to fill in the narrative gaps became a new task, a new brain teaser, that drove me and invigorated me. It was my new inspiration to produce more stories. I wanted each page of each story to be one piece in this bizarre overwhelmingly complex puzzle, revealing the overall picture slowly and in strange magically odd ways. Like how Willaim Burroughs wrote Naked Lunch, then cut all the pages into tiny scraps and threw them in the air, then made the book those scraps of story in the order he picked them up. The difference is, he had an actual story that he dissected, while I had to come up with one as I went.
The origin story which makes up this chapter, I scripted on March 16, 2005. But I realized I needed an extra page, and so this page is what I came up with, but not until over a month later. It was drawn a day after I wrote it, and a day after I'd started drawing all the other pages from the chapter. I worked on it from May 27 to June 26, 2005. Here's this page's original script:
SCRIPT 5/26/05
BONUS PAGE!
PANEL 1
MEANWHILE, ACROSS THE GLOBE, AT THE CAYMAN ISLES!
GENERAL PLUBITTS: THE BLOCKADES ARE UP AS YOU REQUESTED!  NO ONE'S GETTING IN OR OUT!  YOU LOOK…MEDITATIVE!
GOOD WORK, GENERAL MUGG!  YES…SIGH…I'M FEELING MEDITATIVE!
PANEL 2
DO YOU EVER GET THE FEELING THAT BY JOINING "G" DIVISION, WE MAY BE CONTRIBUTING TO…THE BIGGEST U.S. COVER-UP OF THE CENTURY?!
PANEL 3
YES, SIR!  OF COURSE, SIR!  THAT, OR THE BIGGEST HOAX OF ALL TIME!  I WONDER WHICH?  AT ANY RATE…
ANOTHER: SIRS!
WHAT IS IT, GENERAL BLOTCH?
WHILE HIDING NEARBY IN SOME LOCAL FAUNA…
PANEL 4
YOU'RE NOT GOING TO BELIEVE THIS, SIRS, BUT…
JACQUES: ZEES EESE NOT…HOW YOU SAY…GOOD!  I SAW ALL ZIS EVEEDENCE…ZEE U.S. ARMY IS BLOCADING/HIDING?  IT SUGGESTS ZEE EXISTENCE OF GIANT MONSTERS!  IT EES NOT…GOOD…  I MUST DO SOME-SING!  I MUST…DESTROY ALL ZIS EVIDENCE!  I MUST GET SROUGH!  BUT HOW?  IF ONLY MY BROZAIRS WERE HERE!
PANEL 5
UNFORTUNATELY, WE MISSED WHAT THE "INTEL" THE THREE STAR GENERALS SHARED, BUT IT WASN'T GOOD!
MY GOD-FEARING GOSH!  THERE'S NOT A MOMENT TO SPARE!  CALL THE PENTAGON!  AND GET OUT THE SLIDE WHISTLES AND FLY SWATTERS, CHEESE GRATERS, POTATO PEELERS, BALL BEARINGS, LUBRICANT!  NOW, GENERAL, NOW!
I SAW IT WITH MY OWN EYES!  ANDLISTEN…THERE IT IS AGAIN!  SHUDDER!
BWEE!  BWEE!
PANEL 6
NOT FAR OFF, SOMETHING OMINOUS AND METALLIC GLISTENS DEEP INSIDE A CAVE AT THE HEART OF A VOLCANO…
"TEE HEE HEE!  TEE HEE!"
WHIRRR WHIRRR…
BWEEE!
WHIRRRRR…
BWEEEE!
TEE HEE!