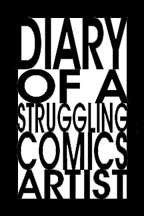 Diary entry: WEEK OF February 19, 2007
Well I had some pretty lousy experiences with my previous Diamond rep, but about three months after he'd been assigned, I got an email from a new Diamond rep, telling me she was going to be my new rep. Her name was Kristin Matthews.
I immediately wrote to her, same as I had done with the rep I will call "Mr. Lousy." I wrote that I was looking forward to working with her, and gave a synopsis of some of my accomplishments. I told her if she's willing, I'd like to send her some of my books, so that she could be familiarized with my work.
Unlike Mr. Lousy, who never bothered to write back, my new rep wrote back immediately to thank me for the kind introduction, and told me she was already familiar with my work. That made me feel so good about my new rep. Immediately off to a good start.
I knew I would be releasing a second Doris Trade soon – I wanted it to be released in time for San Diego 2007 – so I began keeping in touch with my rep to let her know of my plans to try and promote the book as we got closer to its release.
The promoting began when my rep sent me an invite to participate in the New York Comic-Con's Diamond-supported retailer buffet, where Diamond would distribute "a desirable product" to the projected 200 retailers who would attend. She invited me to participate, at the cost of $400, as well as the cost of my product which I would be giving away for free and the cost of shipping my product to Diamond. I spoke with Elizabeth, and we decided it was as good an advertising venture as any, because that's two hundred stores who would have my "desirable product" in their hands, and would hopefully order a copy or two.
I thought about the "product" I wanted to include. My first thought was dumping copies of the now two year old Tabloia, and including flyers with the books, referring to the comics as "samplers," because they contained samples of Doris Danger, which would be coming out soon, Dr. DeBunko, which was a hit with the Skeptic Society, and Dick Hammer, which was now officially a web comic, in addition to "The Lump," which I have copies of in trade format.
Instead, I opted to send a hundred of my 16-page $2.50 comic, "Doris Danger in Outer Space" and a hundred of my 16-page $2.50 comic, "Doris Danger Greatest All-Out Army Battles." The "promotion" was to bag the books with prominently-placed flyers promoting the original (already out) Doris Danger treasury AND the upcoming one, "Doris Danger Seeks. . . Where Urban Creatures Creep and Stomp." I decided these would be a more "desirable product" because they had only come out a couple months beforehand. So this meant creating and printing up some flyers, and bagging them with the comics, and sending them by mail. It took about two days out of my schedule, to get things all together. I included in the package an additional forty packs, which I asked be forwarded to my rep, to pass out to the marketing staff at Diamond.
I used the time to check in some more with my rep, regarding my upcoming Doris Danger treasury. I emailed her that I wanted to send a poster out to the top 600 indie friendly comics shops. The posters would be advertisements for the comic, which I planned to list all the artists contributing to the new book (Shag cover, pin-ups by Mike Allred, Sam Kieth, Dave Gibbons, Al Feldstein, Michael Lark, JH Williams III, Russ Heath, John Severin, Esad Ribic). And if it was permitted, in the month that the new Doris Danger book was listed in the Previews ordering catalog, I wanted to relist the first Doris Danger treasury and promote it again as well, and how it had pin-ups by Mike Mignola, Ryan Sook, Bill Sienkiewicz, Gene Colan, Los Bros Hernandez, Tony Millionaire). For the poster, I was beginning to visualize having a bunch of quotes along the edges.
In addition to all this, I decided I also wanted to try some other kind of promotion, to really try and push the book, but I wasn't yet sure what. I just feel like, if I'm going to give a book a big push, this is the book. So many big names are onboard, and I probably won't have a chance like this again.
My first thought for a promotion was a free print of a giant monster if you buy so many copies. And then I thought, Hey, I could try and dump the t-shirts I haven't been able to sell since I printed them in early 2004. I could pass on my garbage as a "desirable promotion product", and offer one free t-shirt for every five books sold, or something like that. I emailed my rep all this info, and asked for her thoughts. Last of all, I wanted to see if she might allow me to resubmit the first Doris Danger trade, and then make the promotion available if stores bought either or both of the books.
She wrote back that t-shirt promotions are tricky, because they would have to be shrink-wrapped, and also we'd have to do some tricky work for offering sizes or only one size.
I thought about all her information and gave her a call. I asked, what if I offered, buy five or ten books, and get Tabloia #1-5, the first five appearances of Doris Danger? We decided I should do "buy eight," and sign the comics. I would also have to bag them as a package. That sounds good. Even though I think it is a good promotion, and I think buyers who enjoy the Doris Danger books would enjoy having an opportunity to buy Doris Danger's first appearances signed, I also have to admit that this is also a chance for me to dump some back-stock that I haven't yet moved.
So that is the plan. My rep told me she will at the very least list the book as a "pick of the month," and will submit my book for consideration for a free full-page color ad. She told me she was impressed with the Shag cover and Mike Allred pin-up. I'm so pleased with my rep, and how she's been working with me to try and help make the book successful.