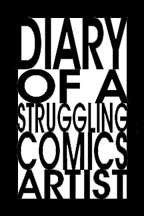 diary entry: February 23-25, 2007, part four
THE GENERAL VIBE OF THIS CON
At this convention, sitting at my table, I was approached by an unusually high volume of people who said they were reviewers or podcasters or interviewers. Most of these people asked if I had anything I cared to give them. It got tiresome after a while, just giving stuff away to everyone, and not selling anything. Someone else later told me that this was indeed a very heavy trade show. Yet another someone else told me that it's interesting too, because the San Diego show is so near Hollywood, you get all the movie folks, but all the book publishers are in New York, so it's a pretty literary crowd at this one.
A fan of my work stopped by my table, and he told me he'd read a few of my comics, and he was excited to see I had some other goods, and made a nice purchase. Another person stopped by to tell me he'd bought the Doris Danger treasury, and he and his kid were enjoying using it as a coloring book.
It's so infrequently I go to cons and someone shows up who's familiar with my work and enjoyed it enough to say hello and tell me so. So of course, that was really nice. This was maybe the third and fourth time? Fourth and fifth?
I wasn't sure what to make of this con. I didn't sell very much. Part of it, I'm sure, was because when I wasn't able to spend time at the table, my friend basically just watched the table, and didn't try to make any particular pitches or sales.
But even if he had, I don't know that it would have made much difference. At one point, the con was so crowded, the aisles were stuffed with people. And I just sat back and watched, and was kind of confused to see how fast these masses of people were walking along. And then I realized that none of them were looking around. No one was looking up at the names of the artists they were walking by. No one was trying to look at any signs. No one was looking at what was on everyone's tables. They were literally looking straight ahead, and driving forward purposefully, at high speeds. It was as if all of us in our booths weren't there at all, it felt like. I couldn't understand it.
Just the same, I made, I hope, some nice reviewer/interviewer/podcaster connections. And as usual, it was great talking with artists and getting photos with them.
TONY HARRIS said he might have time somewhere or other to do a pin-up of a monster for me. He said sometimes he just feels like a break from his usual work, but he never knows when these moments might pop up, so to check in with him now and then. A pin-up from Tony Harris . . . That would be cool.
BILL SIENKIEWICZ
Bill is someone I've been trying to hunt down for a number of cons. But it seems he either doesn't end up making it to cons he's listed to appear at, or else I see him, and then go back to my booth to get books to give him, and return to find him gone. He was listed at this con, but was nowhere to be found Friday or Saturday. Saturday someone told me Bill was seen at the Marvel party Friday night, so he's around SOMEWHERE.
Finally I saw him sitting at his booth on Sunday, but he had a huge line of people with stacks of books to get signed, IN ADDITION to people interviewing him behind his table. On top of that, he never had any drawing materials out at his table, and the reason I was hoping to get to him was to get another sketch. So this con, I let things lie, once again.