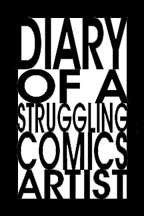 diary entry: February 23-25, 2007, part five
DAVID MAZZUCHELLI
While talking with Brian Bolland, Brian mentioned I should ask David Mazzuchelli about doing a pin-up for me. What??! I hadn't even realized David was going to be at this con. WOW! David Mazzuchelli. What excitement.
He had a huge mob of people there to see him. They all had books to sign, so I found a way to squeeze around to the side of them all and talk with him a little.
He'd brought a bunch of sketches of Batman and Daredevil and Catwoman. Head shots and more expensive full body shots. I overheard someone try to buy two, and David told him he was only selling one to each person, to give as many of his fans the opportunity to enjoy his work.
I showed him my comic and asked if he ever has time to do commissions. He started to give an answer, but then just said, "Well, no." But he said he'd like to take the book and look it over when he had some time. I checked in with him periodically. He of course never had time to look it over during the convention. I asked him if he had any contact info he could give me, to check in with him, and he said no. I understand.
ALEX MALEEV and ESAD RIBIC
Before the show, I'd spent time at the website to see who would be there. I kept hoping to find Alex Maleev, because I's seen him before at San Diego Comic-Con, and I knew he'd be doing convention sketches, and I wanted to see if he might do a sketch for me. But Alex was never at his art representative's booth whenever I made the trek downstairs. I finally asked his rep if I could leave a book for him to show Alex, and if he could ask Alex about a commission of a giant monster for me. He said he'd probably forget, and besides, he didn't think Alex would do it. So that was not very encouraging.
Finally, at the end of the first day, I saw Alex, but it looked like he was packing up. I asked him, "Alex, are you leaving?" He said, "Yes, but don't worry. I'll be back tomorrow." So that was that for the day.
The next day, I popped downstairs again, and Alex was there, and Esad Ribic was sitting with him. Alex was busy, so I said hello to Esad. He recognized me and lit up and said, "Hey, what's up, buddy!" and put his hand out for a high-five. I visited with him for a little while. He said ever since he finished his painted Loki series, he's been working on a painted Silver Surfer series, and it's due to be out this summer – right in time for the movie, I presume.
He was very friendly. I told him I'd come down to ask about getting a pin-up from Alex. He said, "Go ahead." I got Alex's attention and made my pitch, and Alex didn't seem particularly interested. But then an amazing thing happened. Esad shouted out, "You will do a pin-up for this guy! I did a pin-up, and you'll do a pin-up for him too, because he's a cool guy!" And from then on, Alex took me seriously, and wound up doing a pin-up at that very con. Esad teased me, "But you are taking us to lunch at San Diego!" If my punishment for getting pin-ups is taking these cool guys to San Diego, I will take my punishment like a man.
My friend Doug had been a real sport watching the table while I ran up and down the stairs, up and down all the aisles, trying to make all these connections. I tried to spend a fair time at the table as well, so that he could see New York a little. He was able to step out and hit a bunch of museums.
THE TRIP HOME
We left the convention and tried to get a cab out front for about half an hour. Out front were a ton of these black sedans with their drivers harassing us and bargaining prices to take us to the airport, and actually getting in arguments with each other about which of them was taking us. We walked up the street about three blocks, then back, and cabs would drive by without stopping, if we spotted them at all. Finally, we walked up perpendicular to the road about three blocks, hauling all our suitcases all the while.
A cab saw us and flipped around and got caught at a light, and there was suddenly a cop behind him, and he wound up continuing onward. Finally a cab stopped for us and took us to the airport.
We arrived and waited at our gate about a half hour, then suddenly realized our gate didn't have our flight listed. Suddenly frantic, we ran to the front of the line and asked where our flight was. They said we had to walk all the way down to a different desk. We bolted, and learned we needn't have bothered, because it turned out a snowstorm had begun blizzarding outside, while we were in. The flight was delayed.
Finally we got seated on the plane, but then had to wait a little longer for the plane to be de-iced. We tried to get some sleep, and were home by three in the morning, and ready to work the next day. What a trip!