[NOTE: PART ONE of THREE! As you'll see if you click through the following pages, I chose to publish these beautiful pieces by the Hernandez Brothers in THIS order – Gilbert, Jaime, Mario.  But I received them in THIS order: Mario, Gilbert, Jaime.  Rather than try to make narrative sense of these two disparate orders with these commentary pages, I will share the story in the chronological order it happened, with part one here on "Gilbert's" page, even though all three artists may be discussed, or alternatively, the artist whose pin-up I am "commentating" on may not be mentioned.]
Below are a couple notes from my diaries, edited for clarity and transitions, covering San Diego Comic-Con 2002, and my first meeting of the Hernandez Brothers. (If you're interested, you can read the original entry, including more about my portfolio review experience and other artists I spoke to at this con, at this link: 18. SAN DIEGO COMIC-CON 2002):
San Diego Comic-Con 2002
I wasn't interested in doing portfolio reviews again this year. I decided, I'm going to get advice from artists. From people who draw for a living. And then I won't have to wait in line for over an hour (which is what I was doing in portfolio reviews the years before). I can just walk up to the artists and show them my stuff. And I'll be able to take their advice more seriously, because they don't have any motive to do anything except just tell me what they think.
I wasn't looking for work. I was just looking to meet some people whose art I admired, and get their takes on my artwork. Because if I like their art, they should have the best advice for what to do with my own work to make it good. And in addition, then I could meet and spend some time with all these artists I admired!
Even so, I still got different advice from everybody. And for a while I would just try and sort out what advice was helpful to me, and just not pay much attention to any advice I didn't think would necessarily make my art better. And then I'd just try and make my art better.
Eventually, after this con, I finally decided I wasn't interested in hearing people's advice any more, and I stopped going to artists or editors for their opinions and suggestions, unless I was having trouble with something specific, and couldn't figure out how to handle it. From this con onward, I pretty much just tried to look at my work and figure out for myself what was working, and do what I could to make it better. I knew my strengths more or less, and my weaknesses. When I went to cons, I just showed artists what I'm doing, and either they liked it or they didn't. But I stopped showing them to get advice on my work. I showed them, to see if they would do a pin-up for my book that I had decided by now that I was going to self-publish.
* * *
All three Hernandez brothers were in artists alley, sitting together. The first day, Gilbert wasn't there, and I had really enjoyed his "Grip" for Vertigo. Jaime was friendly, but quiet and didn't really have any advice to offer about my work. Mario seemed friendlier and more outgoing.
Next day, I found Gilbert, but Mario and Jaime weren't there. Gilbert looked at my stuff and recommended I put more space around the voice bubbles. He said things are too cramped otherwise, and it's amazing how much less professional bubbles look when they're cramped. To show me an example, he pointed out some of his "Grip" pages, and realized they looked pretty cramped, and didn't think they were a good example.
* * *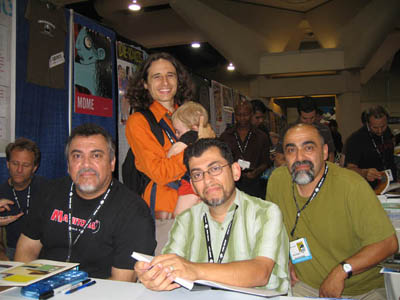 (ABOVE: My sleeping son and I, with our best friends, Gilbert, Jaime, and Mario Hernandez, at San Diego Comic-Con 2007.)
Please read the next installment of this progression from meeting and getting to know the Hernandez Brothers to getting pin-ups from them, on page 058 JAIME HERNANDEZ – Commentary