[NOTE: PART TWO of THREE! As you'll see if you click through the following pages, I chose to publish these beautiful pieces by the Hernandez Brothers in this order – Gilbert, Jaime, Mario.  But I received them in THIS order: Mario, Gilbert, Jaime.  Rather than try to make narrative sense of these two disparate orders with these commentary pages, I will share the story in the chronological order it happened, with part two here on "Jaime's" page, even though I'm mostly discussing Gilbert and Mario here. Read PART ONE here: Doris Danger (vol. 1, Chpt. 6), page 057 GILBERT HERNANDEZ – Commentary]
* * *
When I had shopped around my Dick Ayers-inked Doris Danger pages at San Diego 2003 (which I believe included the first three chapters), hoping to find artists who were willing to draw me a pin-up of a giant monster, that I could publish in my soon-to-be-self-published book – all three Hernandez Brothers were sitting together at the Fantagraphics table. They each said, individually, they would be interested in doing a pin-up. All of them had their emails posted in their Love and Rockets books, and said to contact them that way.
I sent emails to all of them at once, and I believe Mario was quickest to get back to me. He was really friendly and fun with his correspondence, and excited to do the project from the start. It took him a few months to do the piece for me, and he even apologized for taking so long, although it was really a very reasonable time he managed to get it out. I wasn't in a hurry, because I was planning to have it in the third issue, and I hadn't even gotten the first issue out, and I knew I would be putting the books out quarterly.
Gilbert was much quieter with his emails, and basically just named a price, and then I didn't hear from him for a while. In my typical paranoid fashion, I began to think that the reason I didn't hear from him is that I accidentally mistyped his name in my email. And I really did spell his name wrong. It read "Giblert." Then one day, a plain white envelope with my own address listed as the return address came in the mail. I opened it, and there was a Xerox copy of Klogg: The Thing from the Sink, the pin-up he had done for me. He said if I liked it, send him a check to his address, and he would send me the original. So I basically never corresponded with him. I just told him I wanted the piece, and then he did the piece, and then he sent me the piece.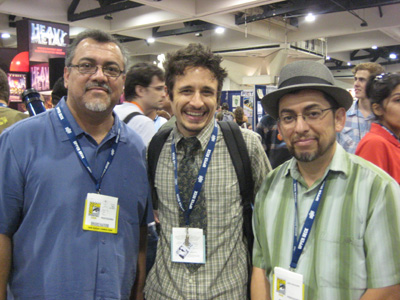 ABOVE: With my best friends, Gilbert and Jaime Hernandez, at San Diego Comic-Con 2008.
So at this stage I had two out of three Hernandez monster pin-ups, and Jaime had yet to write me back. So I emailed Gilbert and Mario, and asked them to be sure and tell Jaime what a nice guy I was. Mario warned me that Jaime doesn't even return his (Mario's) emails — his own brother. He's just reclusive, and hard to get in touch with. And still no word from Jaime.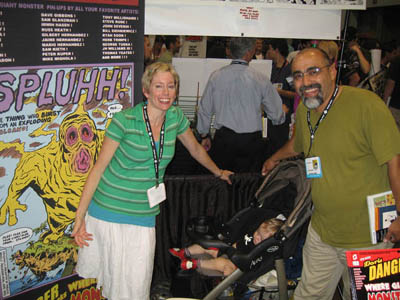 My wife and one-year-old son at my Tabloia Table, at San Diego Comic-Con 2007, with our best friend, Mario Hernandez.
Read PART THREE here: Doris Danger (vol. 1, Chpt. 6), page 059 MARIO HERNANDEZ – Commentary