Wow, fans!  We popped over here and realized… our last post was August 2014!  And THEN we realized there are still 600 of you who are checking in over here every month, even though we haven't given you anything new to enjoy!
Our humblest apologies!  We've been BUSY…  But "no posts" is going to change, fans!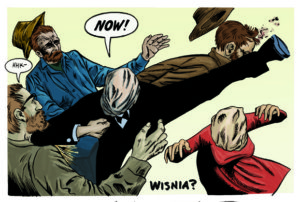 The plan is to start getting more involved on social media – specifically, Facebook and Twitter.  (Pop over and you can see we've already started, as we speak!  So we'll definitely want to be best friends there!)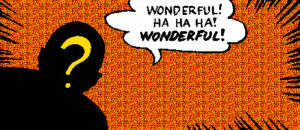 But, why – you must wonder – are we, the notoriously reclusive introverts, taking these "social" steps?  In the hopes that we might fool everyone into thinking we're "cool," and that you might "dig" us enough to leisurely pop over to our newly re-vamped Patreon.com/ChrisWisnia and check out all the comics and comics-related hoo-ha Chris been posting there every week!  It's basically a return to "Tabloia Weekly Magazine," in Patreon form!

What is "Tabloia"???!  It's a combination of "tabloid" and "paranoia." It can encompass any of my tabloid loves: sensationalism, off-beat humor, comics, 1940's film noir and horror films, The X-Files and Twilight Zone, 1980's professional wrestling, Ray Harryhausen, masked vigilantes, violence, shocks, gossip, tabloid pseudo-science, conspiracy theories, sci-fi robots, James Bond style intrigue, and more.
This re-vamped  Patreon.com/ChrisWisnia already contains tons of published AND never-before-published "Doris Danger" Giant Monster Adventures.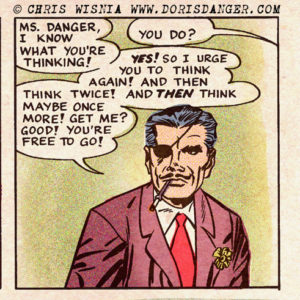 Then we'll expand it with tons of classic features, and surprise unpublished additions to them, such as "The Lump," "Dr. DeBunko: Debunker of the Supernatural," and the Spider Twins masked vigilantes of Crude Bay CA.  And THEN we'll introduce new, not-yet-published features, like "Brush with Peril," where modern art meets James Bond style spy intrigue, and clips of our upcoming documentary, "Diary of a Struggling Comics Artist," in which we interviewed TONS of the biggest names in the comics industry.
Not interested in Patreon.com/ChrisWisnia ??  That's ok too!  Hopefully you'll enjoy plenty of free glimpses … right HERE… of all Chris's comics, features, and general insights into his brain!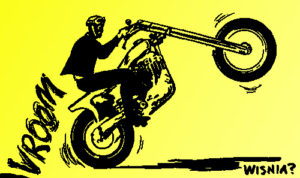 Please check in periodically and enjoy… and share… starting right NOW!
Rob Oder,
Editor-in-Chief
Tabloia Weekly Magazine