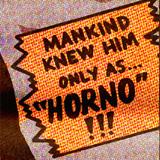 Colored by Ricky Sprague!
Download the HIGH RES print ($4 Patrons)
($4 Patreon, please click the PUBLISHED link below!)
FANS! This Chapter begins with a senses-staggering full-page pin-up of a GIANT MONSTER! But before you click the PUBLISHED link below – These scintillating, pulchritudinous images are rewards for our kind $4 Patreon supporters!
Please don't hate us if you're not a kind $4 supporter!  We want you to enjoy this comic, regardless of your support, and there are TONS of free pages for you (besides these absolutely amazing full-page spreads in the style of late 1950's-early 1960's Atlas comics, pre-super-hero, Jack Kirby-parodied and/or sweetly homaged beauties)! Simply click on all the RED icons and NOT the GREEN ones!
Enjoy, fans!
-Rob Oder, Editor-in-Chief, Tabloia Weekly Magazine!
Colored by Ricky Sprague!
With reverence and admiration for, and in loving parody of, the Atlas GIANT MONSTER comics of Jack Kirby, Stan Lee, Steve Ditko, and Larry Lieber, whose comics you should buy!