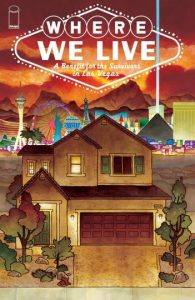 I'm thrilled and honored to announce that I've been invited to contribute to "Where We Live" (Image Comics), a benefit anthology of fictional stories and eye-witness accounts, as told by an all-star lineup of the top talent working in comics.
I wrote, penciled and lettered a four-page story, and industry luminary Bill Sienkiewicz is inking it.  Here's a not-yet-lettered or colored panel by Bill and I: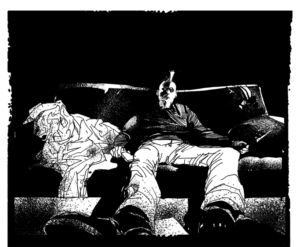 Other contributors (and there are 140 + of the biggest names in the industry) include writers Brian Michael Bendis, Ivan Brandon, Kurt Busiek, Amy Chu, Kelly Sue DeConnick, Neil Gaiman, Kieron Gillen, Mike Mignola, Mark Millar, Greg Pak, James Robinson, Gail Simone, Brandon Graham, Rob Williams, Brandon Graham, and artists Rafael Albuquerque, Mike Allred, Paul Azaceta, Cliff Chiang, Geof Darrow, Tess Fowler, Brian Haberlin, Phil Hester, Joelle Jones, Ariela Kristantina, Jeff Lemire, Jamie McKelvie, Michael Avon Oeming, Sean Phillips, Darick Robertson, Javier Pulido, and JH Williams III.
All the creators have graciously volunteered their time and talent to help bring some sense to this senseless act and, in the process, raise money for the survivors and their families. The book will include a variety of perspectives with key themes exploring gun violence, common sense gun control, value of a compassionate society, mental health stigmatization, aftermath of tragedy and how individuals and communities persevere, and an appreciation of Las Vegas as a vibrant community. WHERE WE LIVE also features stories from local writers and artists as they relate their personal experiences and reactions to this tragedy. One hundred percent of the proceeds for the WHERE WE LIVE anthology will be donated to an existing GoFundMe campaign for the survivors in Las Vegas.
The book ships to stores May 30.   Go to your local shop and give them order number: Mar180600
Read a riveting and moving essay about the book's genesis by Las Vegas resident and anthology curator J.H. Williams III
See a list of the 140 + contributing creators
See Image Comics' solicitation for this month's Diamond Ordering Catalogue