I've begun publicly releasing sneak-peeks of my upcoming comic book documentary!  It features interviews I conducted from 2011-2015, with comics pros NEAL ADAMS (who in the 1960's-70's created the "dark" Batman look that has become the standard), MIKE ALLRED (creator of iZombie, a Netflix series), SERGIO ARAGONES (Mad Magazine "between the margins" artist), DICK AYERS (inker of the earliest issues of Fantastic Four, Hulk, Thor, Antmanand others), JEFFREY BROWN (Vader and Me), KEVIN EASTMAN (co-creator of the Teenage Mutant Ninja Turtles), RAMONA FRADON (1950's artist of Aquaman), DAVE GIBBONS (artist of Watchmen), THOMAS JANE (actor who played the Punisher and TIM BRADSTREET (cover artist who defined the Punisher's look for the movie), SAM KIETH (co-creator of Neil Gaiman's Sandman, and the Maxx – made into an MTV cartoon), ROBERT KIRKMAN (creator of Walking Dead), TODD McFARLANE (creator of Spawn), JAMES O'BARR (creator of the Crow), NATE POWELL (artist of John Lewis's autobiography, March), SCOTT SHAW (1980's Muppet Babies producer), STEVEN T. SEAGLE (co-creator of Ben-10 and Big Hero 6), JIM STARILN (creator of Thanos and Drax), HERB TRIMPE (artist of the first Wolverine comics)… and that's just some of 'em!
HERE is the teaser!
HERE is the trailer!
Here is the COMPLETE LIST OF SNEAK PEEKS of interviews that are so far available, or becoming available shortly.  We are adding a new clip every week!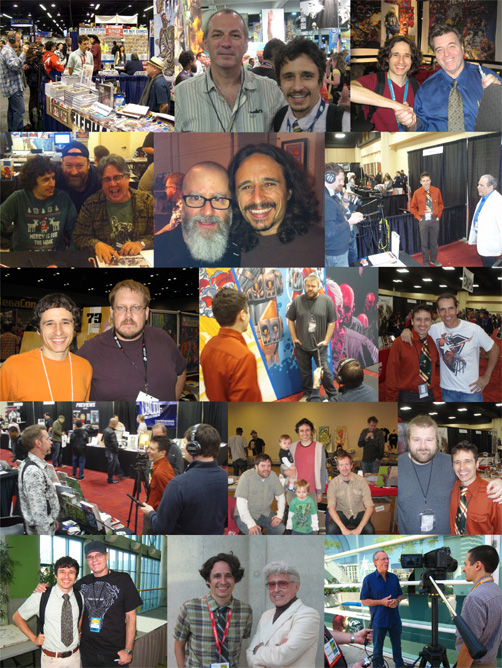 In 2010 I was thinking about how difficult it is, in so many ways, to try to make a living in comics.  Trying to get into the industry, the stress of needing to find new work every month to pay rent, to not have benefits or insurance, the shrinking state of the industry and general public lack of interest in comics, getting your work made into films and other media, decisions about taking work-for-hire in which you get a paycheck but own nothing you create vs. ownership but no guaranteed income and having to promote yourself and your product that no one has ever heard of… Regardless of the level you're at, it comes with struggles.
HERE ARE some videos posted free to the public (I will continue posting a new one each week):
NEAL ADAMS (approx 3:40) shares how he appealed to publishers to create a royalties system.
LEE BERMEJO (approx 5:15) discusses the challenges of creator owned projects.
TIM BRADSTREET (approx 3:20) discusses the challenges of freelancing in the comic industry.
JEFFREY BROWN (approx. 4:05) discusses the peaks and valleys of being a freelancer.
HOWARD CHAYKIN (approxx 1:45) discusses transitioning from comics to television.
MY WIFE AND I (approx. 4:15) discuss our arguments in the early years of their relationship.
I hope you will check out this project, and if you are willing, it would be an immense help and kindness to me and other artists interviewed, if you could share any of the above links, subscribe to my below social media accounts, and so on.  I'd love to hear any comments you'd care to give as well!
I am posting these video clips (and much more) at my Patreon.com/ChrisWisnia, a platform where artists can gain support from their fans in exchange for secret-society-style access to incentives and bonus features.
Since the beginning of time (unless we were born or married into the class of the idle rich), artists have been at the mercy of their patrons:
Michelangelo could never have painted the masterpiece that adorns the Sistine Chapel's ceiling without Pope Julius II's funds.
The Impressionists had Durand-Ruel, who purchased over 3000 Monets, Renoirs, Pissarros, Sisleys, Cassatts, and Manets, to allow them to subsist, and to make their art. He basically encouraged, nurtured, and financed the entire impressionist movement.
Van Gogh never sold a painting in his lifetime. (He DID sell a couple drawings.)  He was penniless, but had a brother who provided him with money for food, a roof over his head, and paint and canvases, to create his body of work.
People like these allowed artists to dedicate their time – eight or twelve hours a day – to making their art.  Patreon is a great place for modern-day artists, who – like all the artists of history – need support in this digital age.  If you value ART and THE ARTS, in our society and communities, or gain pleasure from it, and if you'd like to directly support me as an artist and the creation of my art, I hope you'll consider a tier level (as low as one dollar a month) at my Patreon.com/ChrisWisnia, where I have been dutifully posting my comics, high res images, essays, videos, and more, a few times every week for the last fifteen months, and plan to continue to do so, with great excitement for all my projects, for the foreseeable future.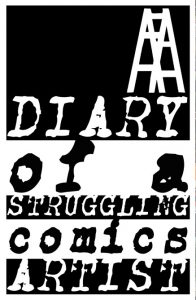 Thanks as usual for checking out all the projects I'm always up to!
Sincerely,
Chris Wisnia
www.ChrisWisnia.com
YOUTUBE
Facebook/ChrisWisnia
Twitter@ChrisWisnia