Tuesday, October 16th, 2018
COMMENTARY:
Since Mike Allred was the first pin-up I commissioned for Doris Danger, you can read about why I wanted pin-ups in my books, and how I set about trying to get them, on page 020 MIKE ALLRED – Commentary
BILL SIENKIEWICZ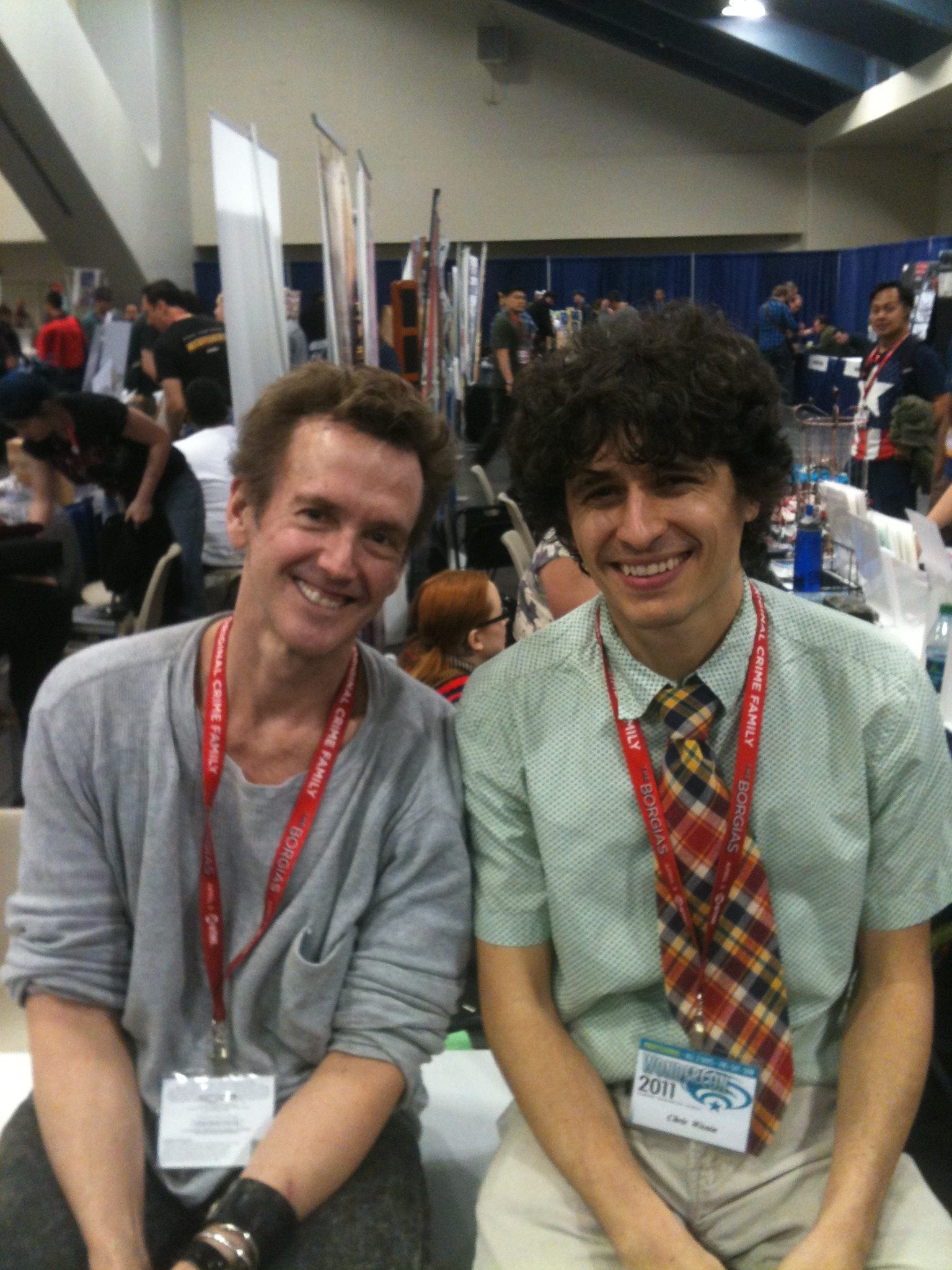 (This photo is of Bill and me at Wondercon 2011 in San Francisco.)
Bill is a character.  He "feels" like a true artist.  He's always buzzing around trying to get a bunch of things done all at once, coming and going, and not always easy to find. Piles of art and art supplies spread out everywhere.
I met and spent a little time with him at San Diego Comic-Con 2003, and he agreed to contribute a giant monster pin-up. I was at his booth for a fair amount of time, and watched him draw sketches for a few people. He would use pictures he drew in his own book as reference for sketches he would draw in the books. He had ink, brushes, pens, and weird dental tools that he dipped in the ink. He had a pinwheel-type device that he would roll over the art to leave scratchy lines. Really fascinating working style, how he gets all his textures and line qualities.  How he just experiments and goes for it.
When I asked about a pin-up, he said he was doing commissions right then, at that very moment. I went to a bank teller and got some cash, and then I tried to write up a little hand receipt/waiver. I've always had everyone I get a pin-up from sign it, unless they don't charge me for the pin-up. I always ask that I have permission to publish it, permission to keep it (if I can afford it), permission to use their name for advertising or marketing or press releases, and that they don't expect any royalties or additional payments. I'm sure some artists have thought I'm an asshole to make them sign something, but in twenty years it will cover them as well as me, because we both know how I intend to use their pin-up.
By the time I got the money together, and had my contract/waiver/receipt, it was getting later in the day, and he said he might not be able to get to it today, but to check back in with him later. We checked later in the day, and he was gone. We went the next day, and never managed to find him at his table again.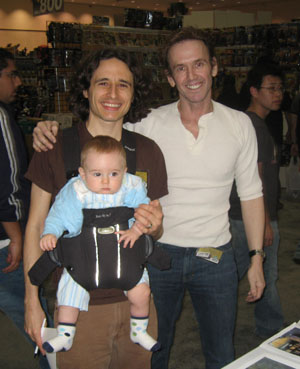 Over the next few months, I emailed Bill, and finally called him. I was honestly beginning to feel a little nervous, knowing I'd given him a sizeable wad of cash. While leaving a message on his answering machine like this, "Bill, I'm beginning to get a little concerned, because I haven't heard from you," he picked up, and assured me he would have it to me within a week or two. Maybe a month later he contacted me to say it was finished, and he'd send it to me priority, and I'd get it in a few days. Maybe a few weeks after that it actually, finally did come in the mail. What a crazy monster pin-up he sent me! I published it in my second issue, Tabloia #573.  I liked it so much, I commissioned him for a second pin-up at Wizard World L.A. in 2007, which is where the photo above was taken, with him and my first son.  Then he inked a short Doris Danger story!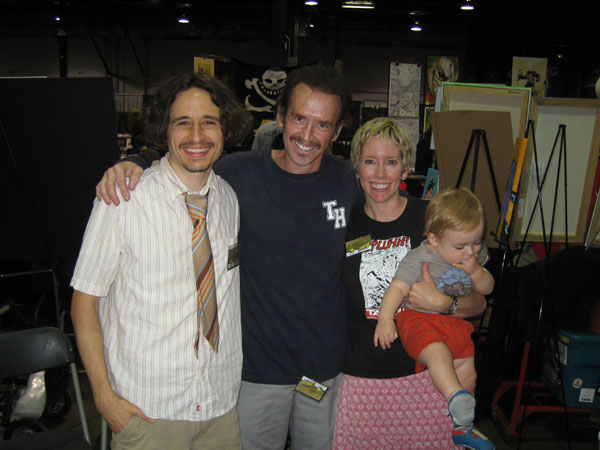 (Photo of Bill, my wife and oldest son, at Chicago's Wizard World 2007.)
Bill has been so sweet and kind to me about my monster comics, and truly has come to be a best friend of mine!  I believe he does genuinely enjoy my work.  Bill gave me a kind quote of endorsement for promotion, which was actually just something he wrote me in an email, and I asked for permission to use it in print.   We tried to collaborate on a project in 2014, first with him as cover artist, and then as inker for the eight issue series, but we were unable to find a publisher to take the project on.  Most recently, he inked my story in the Where We Live: Las Vegas Shooting Benefit Anthology.