Holy cow! DORIS DANGER
ORIGINAL ART
for sale! Pop on over to
www.comicspace.com
and start buying!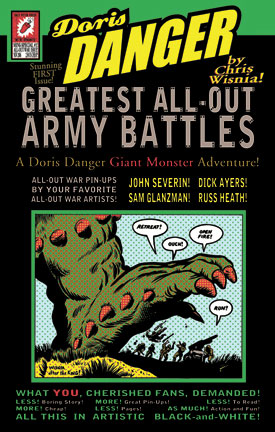 DORIS DANGER
GREATEST ALL-OUT ARMY BATTLES!
All-Out War Action in the "Jack Kirby giant monster" tradition, featuring your favorite conspiracy-seeking Tabloid journalist, Doris Danger! This issue features lots of splash pages, men in uniform, Mexican stand-offs, a general with a penchant for setting musical instruments on fire, and GIANT MONSTERS! Also contains giant monster pin-ups by your favorite war artists...Russ Heath, Dick Ayers, Sam Glanzman, and John Severin!
In stores November 2006! 16 pages/B&W/Comic-Sized/$2.50
DIAMOND ITEM NO: SEP06 3539
If you crave some more Doris Danger facts and photos, be sure and see the informative and entertaining DORIS DANGER BONUS INFO listed under Tabloia Weekly Magazine, where she made her first appearances!
REVIEWS!
Listen to podcast episode #50.5 for an interview of Chris by Secret Identity, live at New York Comic-Con 2007!
The Comic Book Haters dedicated an entire podcast to Salt Peter Press! Listen to what they thought in Episode LXXXVb- Bootleg!
What a nice review of the DORIS DANGER books AND DR. DeBUNKO by by Marc Mason at the comicswaitingroom.com!
How sweet of Troy Brownfield at Newsarama to mention the Doris Danger books!! (It's there...just scroll to the VERY bottom!)
"Matty-Matt's" review was interested in "Doris decontextualization" at sfist.com!
Johnny Bacardi thought the Doris pamplets were okay at johnnybacardi.blogspot.com!!
As usual, another kind and humorous review by Robin Lewis at comixfan.com!
What an odd, nice summary of this pamplet-thin comic by Paul Dale Roberts at jamaonline.com!!
READ DORIS DANGER ADVENTURES!! Simply click here!

THE COMICS CREATORS SAY...! Read what all the luminaries of the comics industry have to say about Doris Danger!

See DORIS DANGER'S FIRST APPEARANCES...only in TABLOIA WEEKLY MAGAZINE!