WOW! DORIS DANGER CREATOR'S COMMENTARY CD!
FREE??!
A touching and informative AUDIO SUPPLEMENT for the frightening, realistic, and moderately entertaining comic, "DORIS DANGER GIANT MONSTER ADVENTURES!" A must-have!
Don't delay, fans! Go to SLG'S website to order your FREE CREATOR'S COMMENTARY!
BONUS!
Make Your Own CD Sleeve!
So easy, fans! Follow these simple steps:
1. Click on the first image below! It will open a new window!
2. On the new page, right click on the image, to "save image as" to your desk top!
3. From your desk top ... print it!
3. Click on the second image below!
3. On the new page, right click to save it!
5a. Print it on the BACK of the paper you just printed the first one on!
10. Use scissors, or better yet, a ruler and razor, to cut along the edges! Good luck on this one!
6. Fold it in half!
7. Buy a cd case, or empty a case you'd been using for a different cd!
8. Jam your brand-new, just-printed, freshly cut paper in your CD case, and hope it fits okay, and isn't too big or small or crooked!! If it DOESN'T and IS, repeat steps "1" through "11", as needed!
f. Patiently wait for your exciting FREE COMMENTARY to arrive in the mail, and then stick IT in the case too!
9. Voila!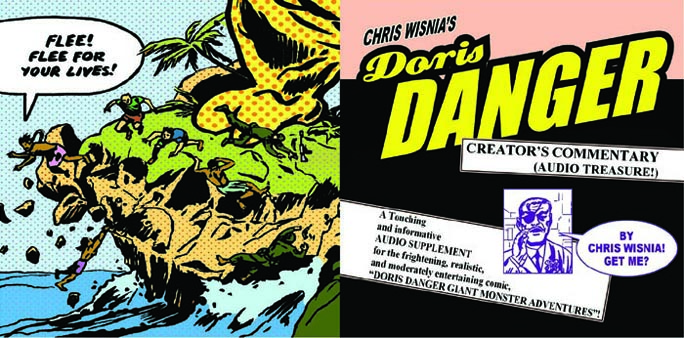 BUY THE COMIC! It will make you popular!
Call 1-888-COMIC-BOOK! Find your nearest comics shop!
Buy it at AMAZON.com ...NOW!

READ DORIS DANGER ADVENTURES!! Simply click here!
THE COMICS CREATORS SAY...! Read what all the luminaries of the comics industry have to say about Doris Danger!

CHECK OUT THESE REVIEWS, INTERVIEWS, and ETC!
See
DORIS DANGER'S FIRST APPEARANCES
...only in TABLOIA WEEKLY MAGAZINE!
Back to other exciting and realistic Doris Danger books