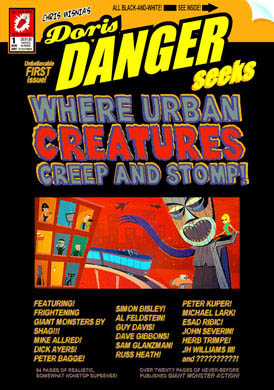 DORIS DANGER SEEKS WHERE URBAN CREATURES CREEP & STOMP #1!
Unbelievable First Issue!
64 pages/B&W/humongous treasury-size 9"x13"/$11.95
DIAMOND ORDER NUMBER: MAY07 3695
Featuring front AND back covers by SHAG! Giant monster pin-ups by MIKE ALLRED, GUY DAVIS, JOHN SEVERIN, DICK AYERS, DAVE GIBBONS, PETER KUPER, HERB TRIMPE, PETER BAGGE, SAM GLANZMAN, MICHAEL LARK, JH WILLIAMS III, AL FELDSTEIN, RUSS HEATH, ESAD RIBIC, and MORE??????!
Starring everyon'e favorite Tabloid Journalist, as she encounters the Monster Liberation Army, scuba-diving hillbillies, men disguised as robots, menacing mannequins, a Fez-wearing cult, and more! Over twenty pages of brand new excitement! And as a free bonus, it will ALSO collect both 16-page "pamphlets," "Doris Danger Greatest All-Out Army Battles" and "Doris Danger in Outer Space!" That means 64-pages of non-stop giant monster action!
Read all the fantastic REVIEWS and INTERVIEWS for "DORIS DANGER SEEKS...WHERE URBAN CREATURES CREEP AND STOMP!"

READ DORIS DANGER ADVENTURES!! Simply click here!

THE COMICS CREATORS SAY...! Read what all the luminaries of the comics industry have to say about Doris Danger!

See DORIS DANGER'S FIRST APPEARANCES...only in TABLOIA WEEKLY MAGAZINE!