GREETINGS, FANS! AND THANKS FOR READING...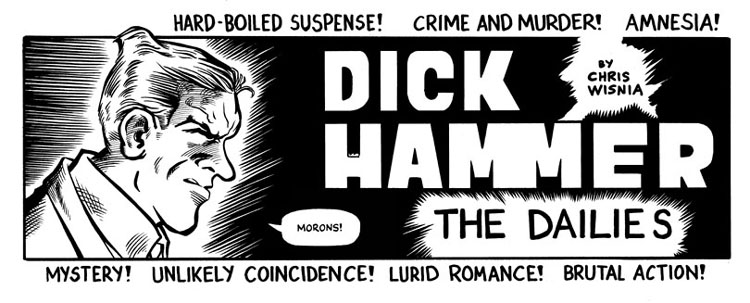 DICK HAMMER: THE DAILIES!
Featuring Dick Hammer: Private Investigator
By Chris Wisnia
Rob Oder, Editor-In-Chief
Copyright 2006-2008 Salt Peter Press, Crude Bay, Southern Calfiornia!

NOTE OF INTRODUCTION FROM THE EDITOR
Greetings, fans, and welcome from our truly proud hearts to Tabloia Weekly Magazine's first ever web-comic!
Those of you familiar with our (ALMOST) award-winning, (medium to fair) quality, (dubiously) respected "tabloid non-fiction comics" may wonder why we've finally made the leap into this "web" format, which some scoff off as "cheap, shoddy, worthless schlock"!
The answer is simple! First of all, EVERYTHING WE PUBLISH IS WORTHLESS SHLOCK!
Second, we prefer to think of our yarn as a 1930's black and white daily newspaper format, but in WEEKLY (or so) installments!
Third and most importantly, this project will see significantly higher profits than we've ever seen with all our issues COMBINED! But don't worry, because your viewing enjoyment of DICK HAMMER: THE DAILIES, is ABSOLUTELY FREE TO YOU!! So HOW will we be able to see such RECORD-BREAKING PROFITS, with a COMPLETELY FREE, WORTHLESS, SCHLOCKY WEB COMIC???!
Simple...If we stop publishing books, and simply MAKE NO MONEY AT ALL, we'll be better off by about FIFTY BUCKS PER PAGE than we've made, EVERY COMIC WE'VE PUBLISHED! AND WE'VE PUBLISHED THOUSANDS OF PAGES OF COMICS! So giving it away free is simply just GOOD BUSINESS SENSE, FOR A CHANGE!
If you've read Tabloia Weekly Magazine (and based on our sales numbers, we're guessing you haven't!) then you're familiar with Dick Hammer and his adventures! If you're astute, you may notice that we don't call him by his previous, "first appearances" moniker: "Dick Hammer: Conservative Republican Private Investigator!" Don't worry, astute fans! He's still the same Dick Hammer you know and love! But this adventure focuses less on his politics, and more on BRUTAL ACTION! HARD-BOILED SUSPENSE! LURID ROMANCE! UNLIKELY COINCIDENCE! CRIME AND MURDER! AMNESIA! and MYSTERY! Hope you enjoy!
Count on us to post a brand new strip, once ever week (or so)! That means you can check in every few months, WITH CONFIDENCE, to find the (slow) plot progressing almost noticeably! It will seem so slow, in fact, that after a year or so, you might decide to check in once a year instead, or STOP CHECKING IN ALL TOGETHER! At that rate, the story should conclude in roughly the same length of time it's taking for all the State quarters to come out! Enjoy!
As an extra special treat, and since it's taken from his own personal case files, we convinced Dick himself (with a monetary incentive) to write an introduction to this yarn! Read on!
--Rob Oder, Editor in Chief
Salt Peter Press!
* * *
EXTRA SPECIAL BONUS FEATURE! INTRODUCTION BY DICK HAMMER
Hope you enjoy reading this,
Dick
January 1st, 2007
Crude Bay, Southern California
* * *
DIRE NOTE OF WARNING! PLEASE READ BEFORE CONTINUING FORWARD!
Delicate or discerning readers, or readers expecting a cultured work of literature herein, should be carefully advised! This story, in the popular and too-often-requested black-and-white newspaper-strip format, contains Mystery! Murder! Arson! Action! An attempted murder that leaves a man in a wheelchair! Suspense! Not one but TWO cases of amnesia! Mistaken identities! Love gone sour...DEADLY SOUR!
AND THAT'S NOT ALL!
Also expect to see base humour, such as farting jokes! A man scratching his crotch! Other lewd gestures with the hands to denote profanities or sexual obscenities! Actual profanities such as the "s" word! The "f" word! The "a" word (with and without the descriptor "hole")! The "c" word ("crap")! Creative or not so creative uses of such words! Disturbing acts of violence! Graphic and romanticized portrayals of road rage! Homages to Chester Gould and Mickey Spillane, and other great works of pulp literature and film noir! Explicit and repeated references to "the peeing muscle!"
THIS is the daily life of...DICK HAMMER: PRIVATE INVESTIGATOR, and it may therefore not be suitable for mature, sophisticated adults, except those of the pseudo-intellectual variety!
Still with us? Then here we go! This week's exciting episode begins..."Darling Murder!"
December 17th, 2006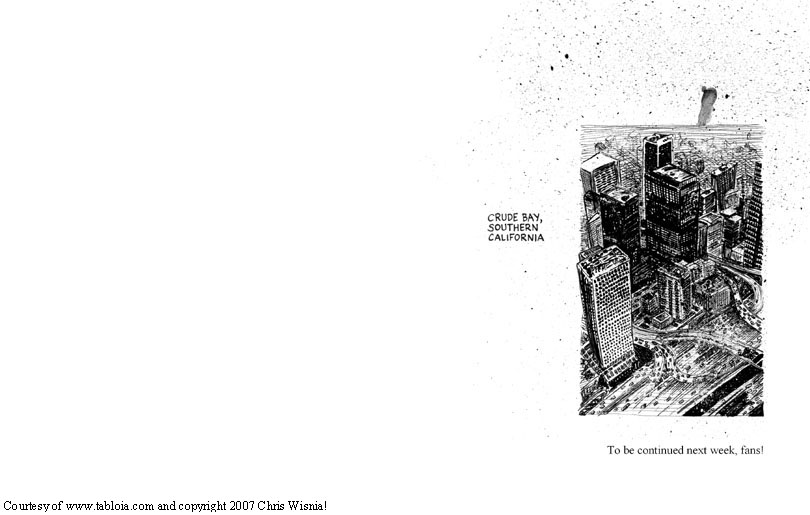 December 24st, 2006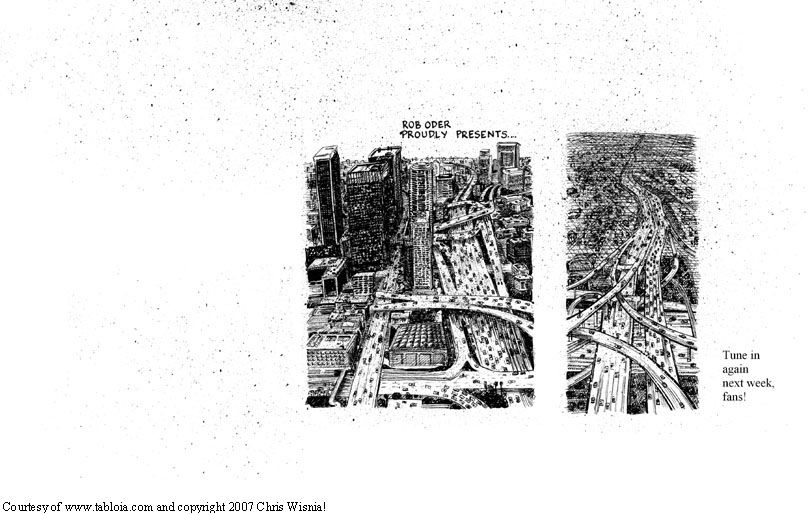 December 31st, 2006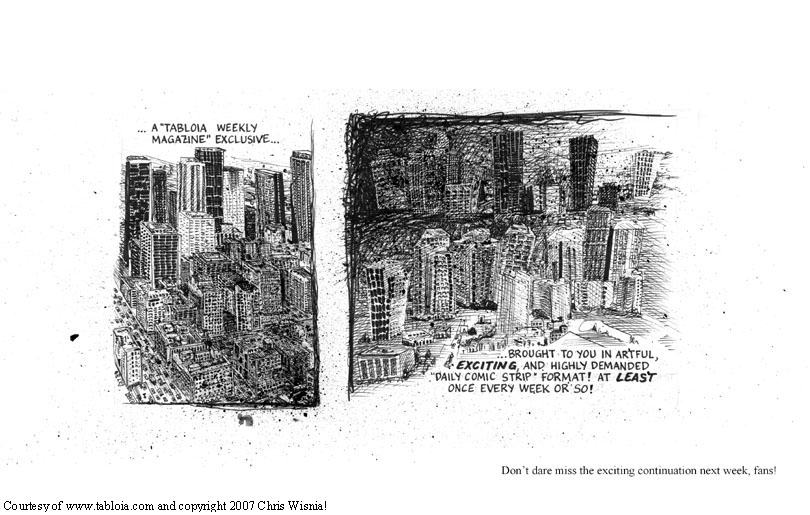 Wow! What a treat! January 7, 2007
AND January 14, 2007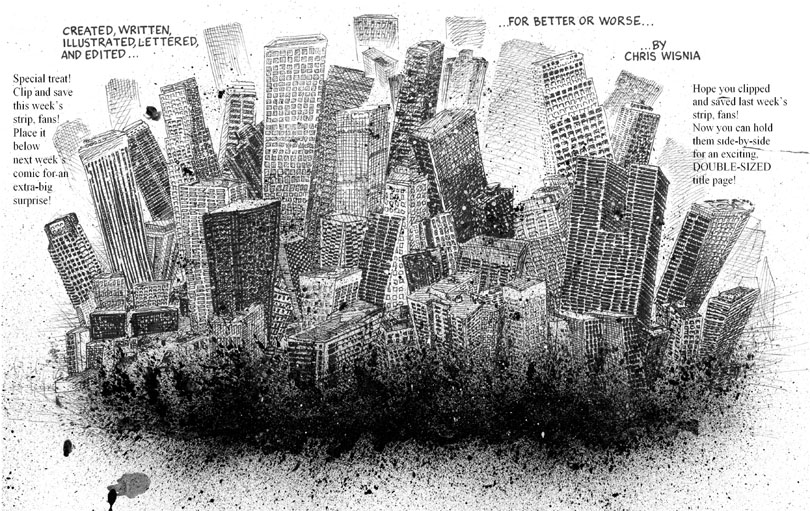 January 21, 2007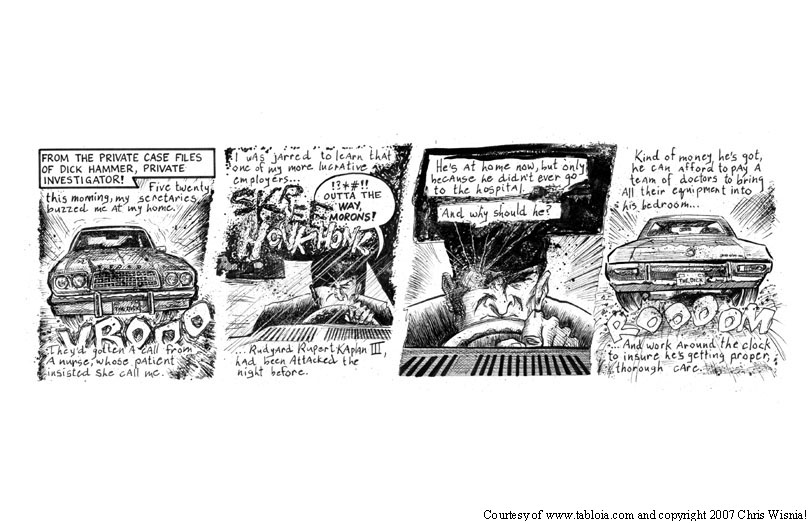 January 28, 2007
February 4, 2007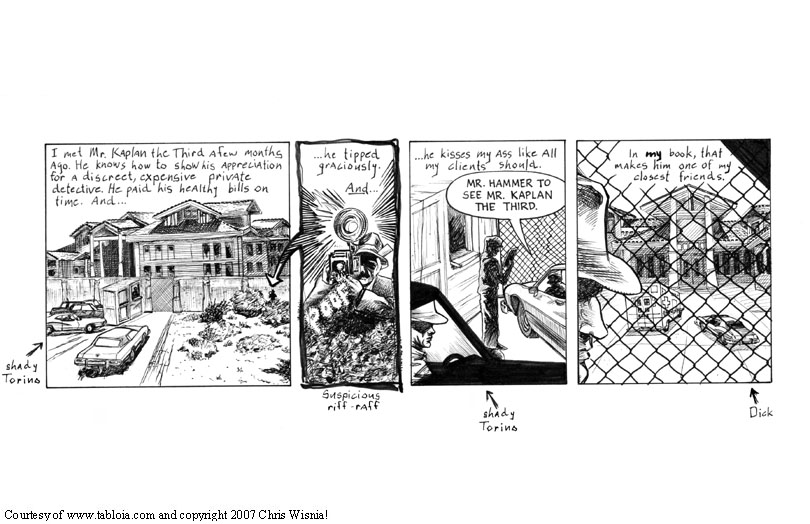 February 11, 2007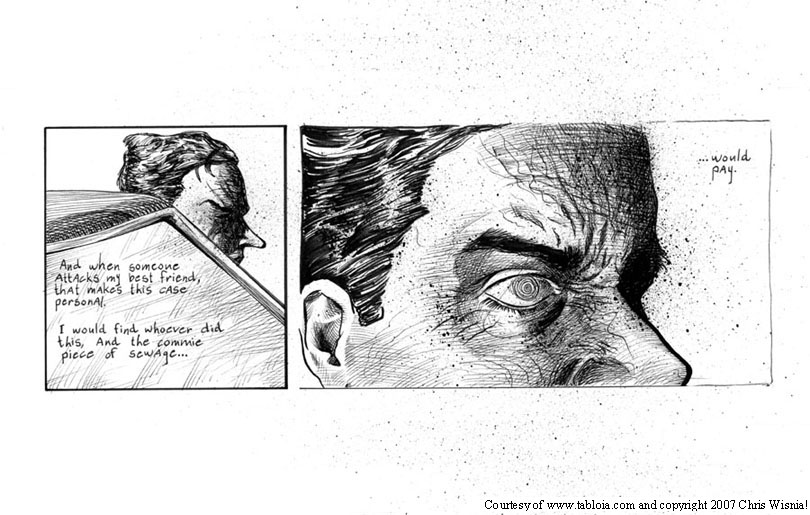 February 14, 2007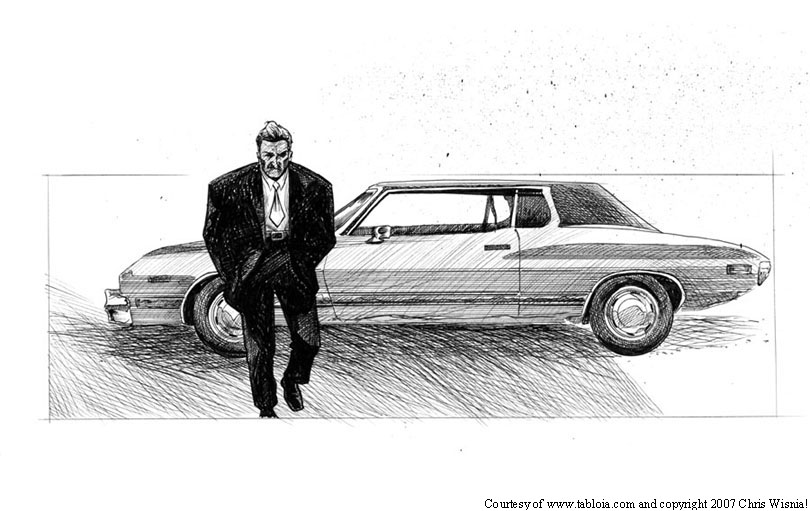 February 18, 2007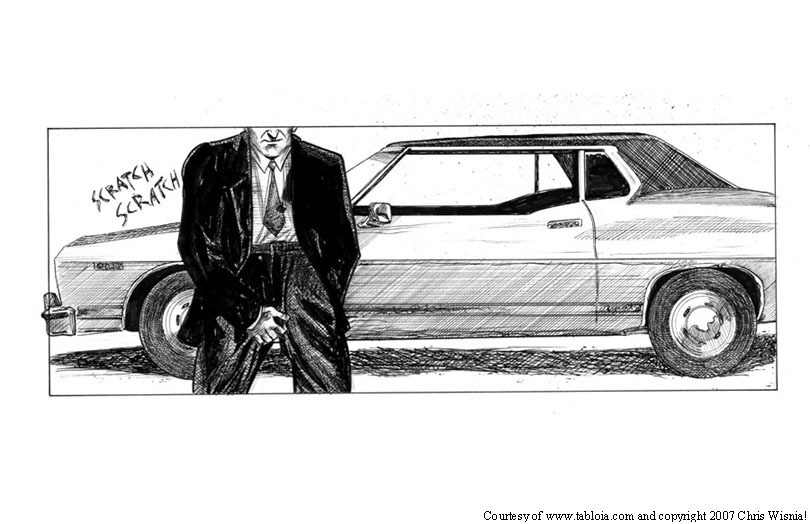 February 20, 2007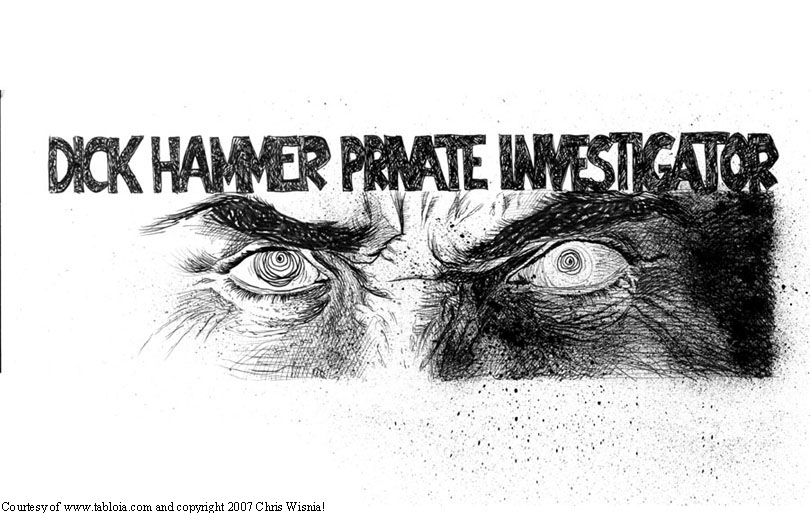 February 24, 2007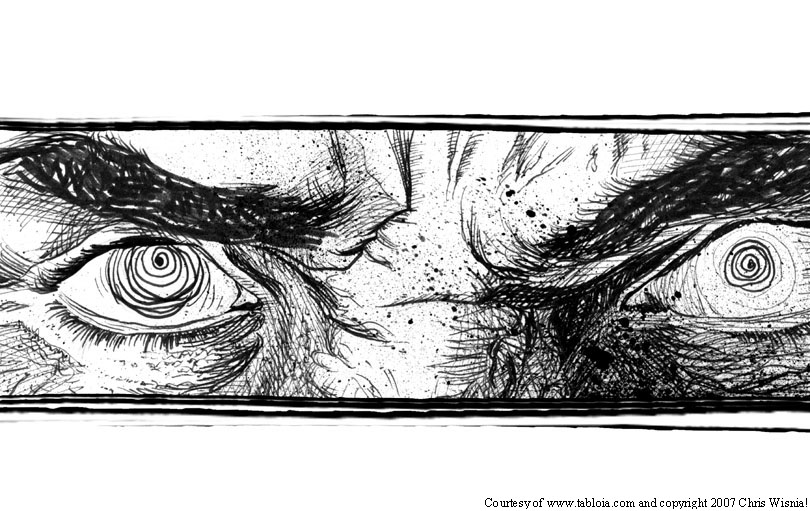 February 26, 2007
Wow, what intrigue! What happens next? We hope you too are enjoying DICK HAMMER'S DAILIES so far, fans!
This is just a quick reminder (from our sponsors) that our feature is sponsored by Ellis Christie's "Thugs, Slugs, and Ugly Mugs" Radio Mystery Hour!
We can't wait for you to see an extra special bonus treat we've got cooked up for you! That's right! You guessed it! The "Thugs, Slugs, and Ugly Mugs" Radio Mystery Hour has graciously donated some of their most popular episodes from the 1940's and '50's, featuring their most brutal, violent, and disturbing hardboiled crime radio shows! Look forward to these upsetting, unsettling, and sometimes sickening samples, every chapter or so of Dick Hammer's dailies! And be sure to tune in to the "Thugs, Slugs, and Ugly Mugs" Radio Mystery Hour every Friday evening!
Thanks for reading, and for supporting our sponsor, the "Thugs, Slugs, and Ugly Mugs" Radio Mystery Hour! Here's a classic, memorable episode right now! Followed by this week's exciting Dick Hammer daily… "The Bride Wore Death!"
Enjoy!
-Rob Oder, Editor-in-Chief
* * *
[Sound of rain on concrete. Footsteps approaching]
[orchestra swells]
[footsteps quicken, then suddenly stop]
[rain beating down]
[gunshot]
[body splashes to ground, upsetting trash can]
[dog barking]
[theme song]
Announcer: Welcome to Andrew Avery's "Thugs, Slugs, and Ugly Mugs" Radio Mystery Hour! Featuring the Dirty, Stinking, No-Good, Back-Stabbing Rats!
[Dripping faucet]
Timid voice: C'mon, guys, I…I swear…I told you everything I know. I…
[silence]
Timid: I swear. I don't know anything else. I…look, how about a cigarette?
[silence]
Timid: C'mon. How about it, guys? C'mon, all right?
[silence]
Timid: No? All right, that's fine. That's fine. I'll have a smoke when we're all done here. That's fine.
[footsteps.]
Timid: What, are you hungry or something? I could use some water while you're in there. My…my throat's so dry. Do you have a cup, or…?
[Sound of match lighting. Sound of gas burner being turned on, lit.]
Timid: Coffee? Great. That's even better. My nerves, you know?
[water faucet turned on, left on, then turned off. Sound of teapot banging onto burner]
Timid: That's great. So we're cool, right guys?
[silence]
Timid: It's cool, I understand. You needed to know what I knew. Now you know I don't know nothin', right?
[silence]
Timid: It's all cool. Let's just all have some coffee, and you can untie me from this chair, and we're cool, right? No hard feelings. You needed to know what I knew.
[whistle of teapot. Banging of burner, whistle dies down.]
[footsteps]
[sound of teapot poured through coffee strainer]
Timid: Smells great, guys. Thanks. Thanks.
[footsteps]
Timid: Where's the cups? Where's the…What are you?
Timid: No, wait. Oh God! No wait! Let go of me! Let go of my face! Oh God! I ALREADY TOLD YOU I DON'T KNOW ANYTHING!
[sound of struggle. Wood chair legs thumping on linoleum. A crash and simultaneous thud]
Timid: OH GOD! OH GOD, NO!
Gruff voice: Pick him back up.
[scruff of chair legs]
Timid: Please, I'm begging you, no. No, please…I don't know anything else…
Gruff voice: Tilt his head back. That's it. Now open his eye.
Timid: OH GOD! I ALREADY TOLD YOU! PLEASE PLEASE! I…I…
[a boiling sizzling, and screaming]
Timid: OH FUCK OH GOD, MY FUCKING EYE MY FUCKING EYE! YOU FUCKS, YOU FUCKING OH GOD
[heavy breathing]
Timid: FU-U-U-U-U-U-CK!
[heavy breathing]
Timid: oh fuck, oh my fucking eye, I told you…
[breathing]
Timid: You fucking bastards, I told you I don't know anything…please…please…
[breathing]
Nasal Voice: The other eye, boss?
Gruff: No. He doesn't know anything.
[dripping faucet]
[theme song]
Announcer: Hope you enjoyed this week's "Thugs, Slugs, and Ugly Mugs" Radio Mystery Hour! Featuring the Dirty, Rotten, No-Good, Back-Stabbing Rats! Join us again next Friday! Now back to our feature, DICK HAMMER in..."This Knife, This Heart!"
If you enjoy DICK HAMMER: THE DAILIES, as much as we do, perhaps you might consider poking around on our fantastic MERCHANDISE PAGE, and supporting the otherwise utterly unthanked and unpaid talent involved in the slavish production of this treasure, solely for your enjoyment!