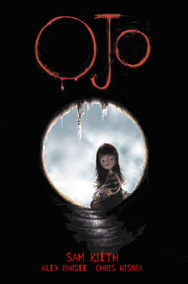 OJO
Annie has terrible luck with pets. She's killed hamsters and mice and lizards and birds. For a domesticated animal, getting Annie as an owner is akin to a death sentence. But when Annie finds a little beastie in a drain pipe named Ojo, has her karma really changed or is she destined for more disappointment? By Sam Kieth, with Chris Wisnia and Alex Pardee. Published by Oni Press.
128 pages/B&W/Manga-sized/Mature readers/$15
Click here to see THE PROCESS OF CREATING ART FOR OJO! Original photo-references and page thumbnail layouts by Sam! Inked pages Chris made from the layouts! And comparative samples of how Sam went in on those pages with textures and chicken-scratchings to blend everything into one cohesive project! A must-see for fans of Sam Kieth, or Chris, or admirers of the process of making comics, or any other human being on Earth!
See a picture of Sam Kieth, Alex Pardee, and Chris Wisnia, the entire artistic team on "Ojo," at San Diego Comic-Con 2005!